Finally I feel like we are getting somewhere. 2 week countdown until the halfway mark!
Size:
A sweet potato
Weight:
As you can tell by my constant guesstimation I don't really weigh myself at home these days. I suppose I should. Anyways, I'll get a Dr's official weigh in on Friday but my guess is I've gained about a pound in the past two weeks since my last appt. So I'm gonna go with 142. 12 pounds.
Maternity:
Mostly. I keep trying on all my non maternity tops that were baggy...to try and see if I can get away with wearing them. A few I have and others not a chance. It's actually quite comical. I really think a shirt from my past is big enough to fit so I put it on and am whisked back into reality! As the belly grows and the weather warms I've start to sport more dresses too. Some maternity some I've had.
Gender:
2.5weeks until the Gender reveal party. This Friday is our big anatomy scan where we will get the goods (and hopefully the ultra scan tech will see some goods :) ).
Movement:
YES! The past two nights while lying in bed I have felt some moving and kicking in my lower abdomen. It's so hard to describe what it feels like. They say like a flutter but it feels a little bit stronger than that to me. I can feel it kick me on the inside but the kicks aren't strong enough where you can see them or feel them from the outside. Poor Hunter might just have to wait a few more weeks. I'm about 100% certain though it's baby being that it was two nights in a row while laying in bed calm, and that they were in my lower abdomen not up high where my stomach is. I can't wait for tonight! :)
Sleep:
I made new bed concoction with pillows and have been sleeping much better! At my head I pile up a normal pillow, then slant a euro pillow, then on my side I have a body pillow. I can sleep on my back and the euro pillow creates and slant so I'm not flat I'm on back and then I can turn to my side in the night and my good friend the body pillow is right there waiting for me. It's worked out well.
What I miss:
I think I'm over missing deli meat. whateves....Don't think I miss anything food or drink wise. Just starting to miss my old body, including my little butt I used to have. It's not so little these days.
Best Moment:
Def feeling the baby move. It stinks that no one else can feel it, see it, or that I can't even describe it. Hunter wants me to describe it to him so bad and I can't figure out the words to.
Looking forward to:
Oh so much! Seeing our baby on Friday at the Ultrasound Scan :) Feeling baby kick more, and Hunter being able to feel it. Plus, this weekend we are heading to Greenville NC for our niece's 1st birthday party. Excited for a fun weekend with family. Can't believe Reagan is ONE!
Cravings:
I don't really think any...
Symptoms:
Still burping and nausea if I go a long period without eating. Headaches about one a week. Frequent urination...although I think it's getting better. I'm only up once a night if that. And some new lovelies have showed up. Back pain and leg pain. My back aches alot and my right leg ached soooooooo bad last night someone could have cut it off and I wouldn't' have cared. Sweet hubby massaged it and that did help, but boy I hope this doesn't frequent too much. I'm a little nervous about these pains being I'm only 18 weeks. What 38 gonna feel like? I'm scared!
18 Week picture
- taken this morning!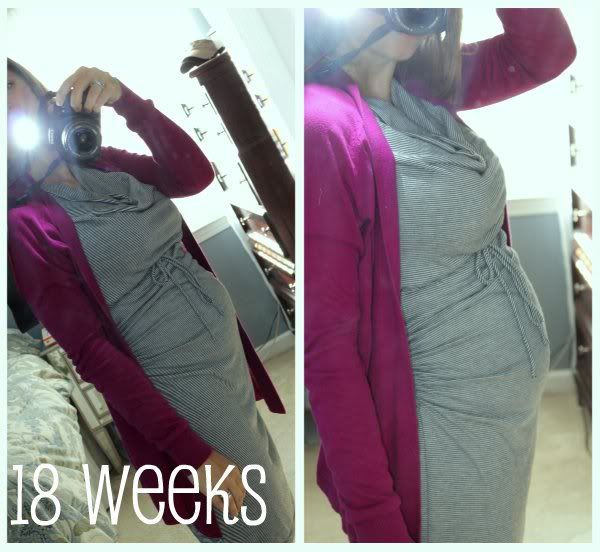 In other news:


Two of my friends got engaged this past week/weekend. My friend Sara B. and my girlfriend Kelly Smith. Congrats to them, such an exciting time!


Two of my friends had babies!! Kristin and Katie A, Congrats ladies!! Kristin had a little girl Kennedy and Katie had a little boy Camden. We'll be there to see your little munchkins soon!! :)


And Hunter and I had a nice long relaxing memorial day weekend doing lots of something, nothing and whatever we wanted. Friday we went to dinner and a movie...hangover 2, Saturday we spent the day on Lake Norman with his Aunt and Uncle, Sunday we attended church, got lunch and then went to register for baby :) Sunday afternoon, I relaxed in the backyard while Hunter finished painting the shed and Sunday night, we went to a cookout at a friends house. Monday, we did a little shopping, hitting up some memorial day sales, then home to cook dinner and relax for the rest of the night.