Well folks we closed on the sale of Gardendale and now are looking forward to life on Linksland Drive. In the meantime we ARE enjoying Lake life at Grami's, having fun (well most the time) picking out furniture for our new living room! Our old livingroom furniture will be moved to the basement at the new house leaving us a beautiful blank slate. We decided to tackle the couch decision first and after recieving a
macys furniture flyer
in the mail decided on the beautiful Chesterfield sofa design. At Macy's its actually called
Saybridge
by Martha Stwart. It comes in a pretty grey called storm which we really like but decided to be brave (or just plan crazy) and go with an ivory color called buckwheat.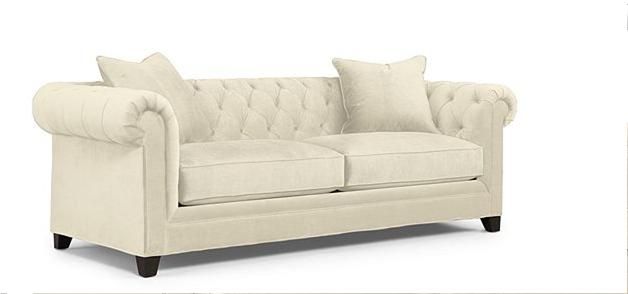 After couch testing at Macy's we made our way over to Potterybarn to see the rug we want in person.
Potterybarn Gabrielle
rug. It's the perfect combo of grey's blue's. Enough color for a rug but neutral enough to go with anything.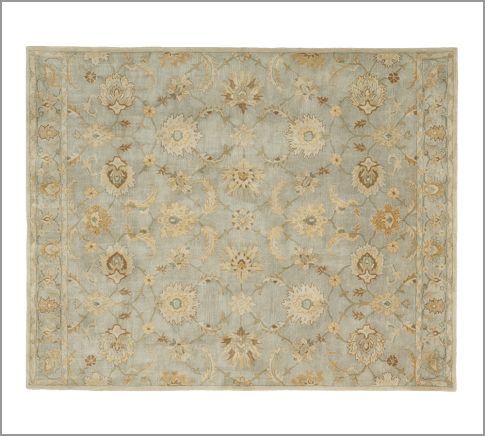 While there we also fell in love with these chairs.
I immediately went home, drew up a picture so we could see how everything we picked out looked together. Hunter and I are very visual people and lack the ability to visualize in our heads.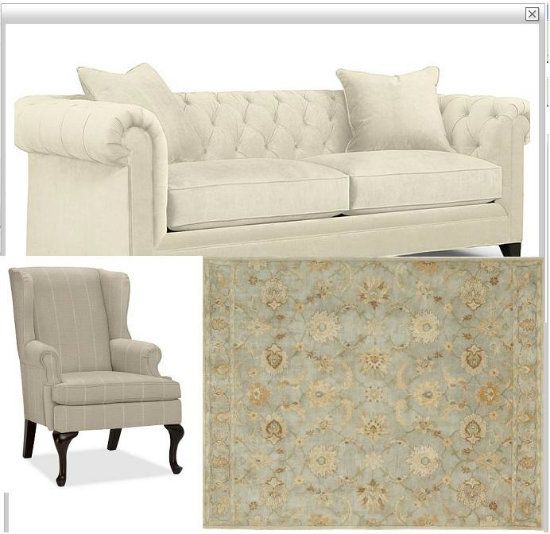 We love it! Now the chairs are a little pricy so we've been keeping our eye out for something more budget friendly. Came across these on
One Kings Lane
yesterday....
Def a viable option and 300 a peice. yes please! Except when you add them to the cart your heart gets crushed by seeing they charge you 250 dollars to ship them. Such a racket!! Now here we are about to order out couches, having fun picking out chairs and BAM! My wonderfully awesome husband AKA Mr. Awesome, decides to get all analytical on me and says he doesn't think the couches are going to look good placed facing eachother in the new living room. He thinks it will leave TOO much space between the couches and they are going to look funny. In an effort to change his mind and stop WWIV from starting I call on my bestie
Linds
for help. Gosh...this girl is GOOD! I mean REALLY GOOD!!! She immediatlely leads us to this website called
Furniture Land South
where you can type in the dimensions of your room and furniture and plan our your room to scale. Now we're talking!! I spent a good part of last night playing around with this great little tool and was able to (i think) successfully convince the hubby and all is good in the new hood.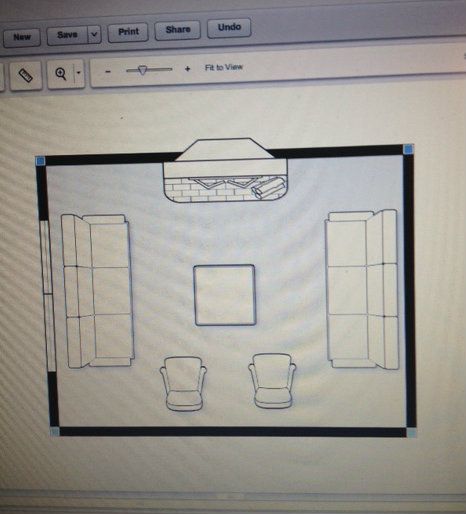 See..it's gonna look great (i hope). Yes, theres a good amount of space between the couches but space is good, we just aren't use to space and we need to EMBRACE our more space. And if we get moved in and decide it looks silly there are several ways to take up that space...add two medium size coffee tables instead of one, add a coffee table and two ottomans...
For the visual...
Let's end with an ode to the Chesterfield...
Basset Furniture has a great one
!
All of these photos are from Houzz, please tell me you know about
Houzz
!
Well this is all just the beginning. What do you think? Are we crazy for ordering couches before we have moved in? Thing is they are only on sale until Feb 4th, and they take 6-8weeks to come in! All advice is ALWAYS welcome :) xo