8 Months!
Right after you turned 7 months you began crawling. You started out snail slow and now you are lightning fast. Saying mom and dad need to get on the baby proofing is an understatement!
Size:
I'm not positive of your height and weight since you haven't been to the dr's in a while. Your 9 month well checkup is next month. My guess would be 22 pounds and 30 inches long (if not longer). You're in size 4 diaper, 12 month sleepers, and size 3 shoe. Your 6-12 month clothes are getting tight so from now on we'll only buy 18th months clothes. This fall/winter I'm sure you'll be in 18-24 months and pushing 2T by the end of winter.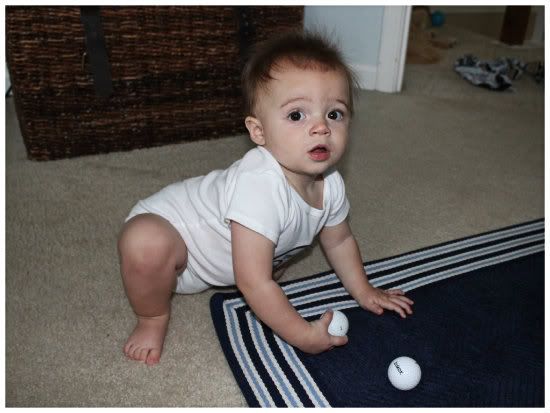 Development:
Your learning so much every day!! Your hand eye motor skills have improved greatly. When we first started giving you puffs or cheerios one out of every ten you picked up would end up in your mouth. Now you pick up ten at a time and they ALL end up in your mouth  ok, not 10 really but your great at feeding yourself now. Your also getting really good at using your sippy now. About this crawling your everywhere and pulling up on everything!! Jakes water and food bowl being your favorite thing to pull up on. Another favorite is to climb up and down up and down from the fireplace stoop. Your starting to learn how to give kisses and wave. With your hand backwards you'll open and close our hand….it's really cute. You def know who mommy, daddy and Jake are. At dinner time we can ask you to give Jake a puff and you'll grab a puff off your tray and hold it out for him. Most times you snatch it back though before he can eat it because you want it  Teeth, you have 6 teeth! 2 on the bottom, and four on top. You've handled them like a champ with a little bit of night time waking.
Personality:
Some words we use often to describe you….sweet, crazy, monster, daredevil, allll boy! Your very easy and happy unless you're tired. You wake up from naps, eat, and then play HARD.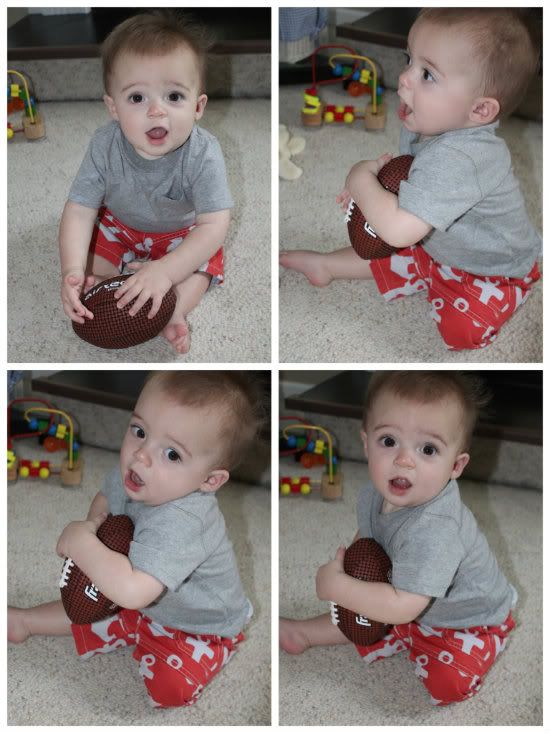 Up, down, all around the living room from toy to toy until you melt down because u can't go any longer. We'll then put you in your crib for a nap and the cycle begins again  We have realized you're a little daredevil too. You'll crawl full speed for the edge of our bed and dive off!
Daddy and I put pillows on the floor one day and with assistance let you do it to see what would happen. Um, big mistake because you LOVED it. now you think it's fun and a came to dive off of furniture onto the ground but you don't realize it's not always going to be a soft landing.
We have to watch you like a hawk and try to keep all four grubby paws of yours on the ground! You're really so much fun though, you laugh a lot, and know what you want (and most of the time get it )
Eating:
So far the fruits you have tried are…apples, pears, bananas, prunes, mango, pumpkin and avocado, blueberries, peaches, nectarines, and apricots. The veggies you have had are sweet potatoes, yellow squash, peas, potatoes, green beans and carrots, zucchini. And we just introduced whole milk cottage cheese and basmati rice. I would say you liked it. Not loved, you need to get used to them. Your favorite fruit by far is apples or pears, your favorite veggies are carrots or sweet potatoes. YOU HATE peas. Although we have figured out that if we mix your peas and your carrots you love it! So far mom has pureed all of your food, which I give credit to
this amazing machine
and
this fabulous baby food cookbook
. Despite my fabulous cooking Puffs, mum mums, and cheerios are the key to your heart. This month we are going to venture into yogurt. Your schedule looks like this…
5/6am – wake to nurse and then back to bed 7/8ish – up for the day 8:45 – breakfast. Oatmeal and a fruit 10am – nap 11:30 – bottle of milk 12:30 – lunch. a fruit and a veggie 1:30pm - nap 3pm – bottle of milk and snack. Mum mum or puffs or yogurt melts 6pm – dinner. A grain, veggie, and fruit. 7pm – Bath, book, bottle, bed.
Sleeping:
You have good nights and bad. Some nights you'll sleep through others you'll wake up crying a couple times. Teeth, hot/cold, dreaming, pee'd through your diaper…who knows! It's all just a stage and overall you're a good sleeper. I am starting to think about the fact that you're not going to be able to wake up and nurse at 5am for much longer little man. We're going to have to figure out a way to bypass that feeding and get you to sleep straight through til 7am where we'll give you a bottle of milk when you wake up.
Likes:
some of your favorite toys are…balls, xylophone, your play table you can stand up on, and your drums. You love making loud noises beating things together and shaking rattles. You still like music at a lot too. You love to be played with, tickled, wrestle with daddy and climb all over Jake. Your obsessed with Jake and Jakes ball. You'll steal his ball and then taunting him with it….offering it out to him and then pulling it back. Pour Jakey, he takes it like a champ and one day he knows you're going to learn how to throw that ball. You love the pool, being on big daddy's boat, and playing in (eating) sand. Really nothing scares you.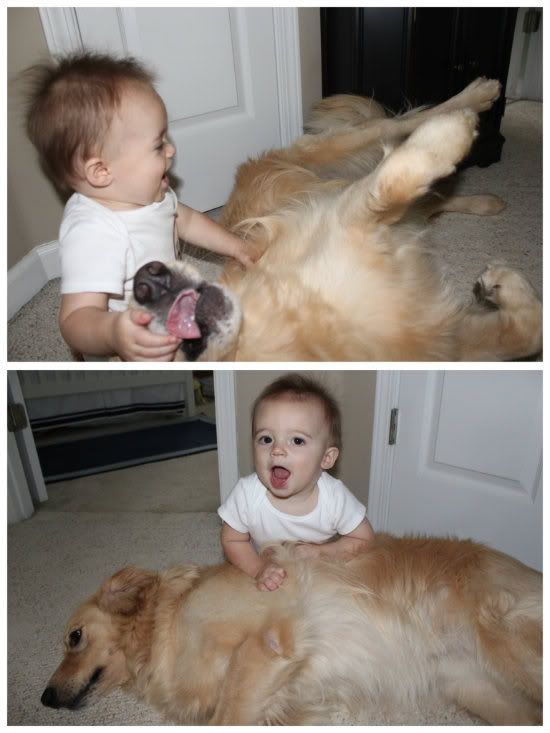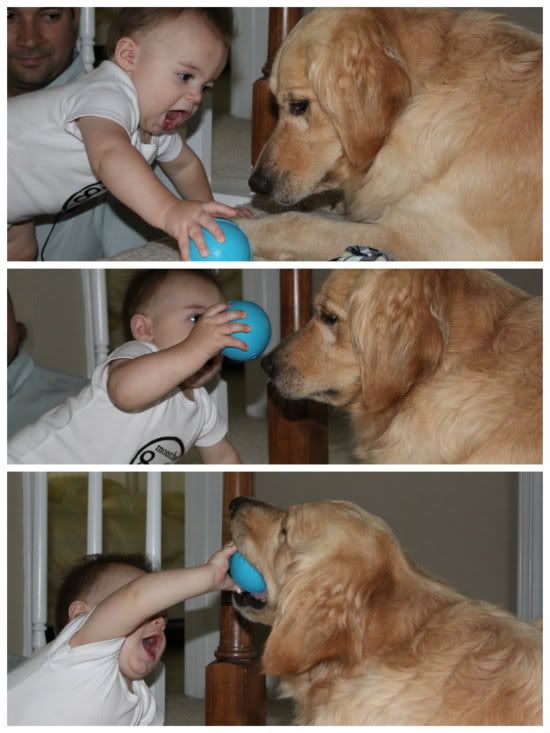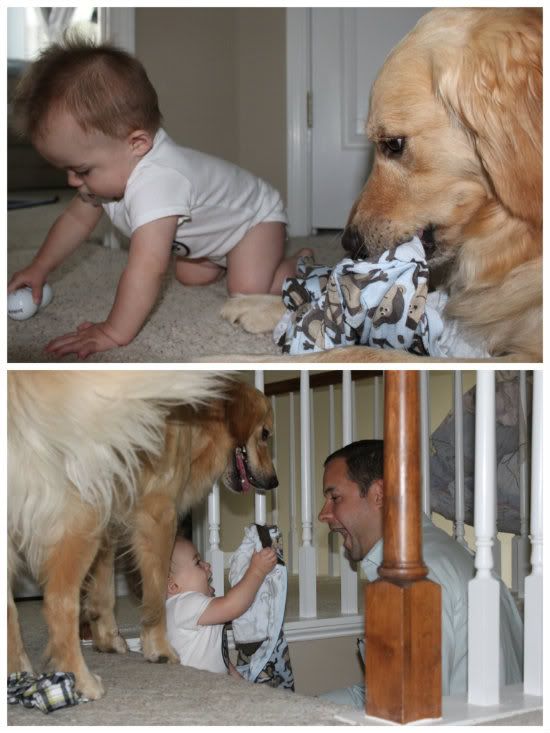 Dislikes:
Your getting better at this but water on your head is not your favorite thing. And your still fussy at times when getting ready for bed. That, Peas, and being tired are the only things I can think of that make you cry. Haha.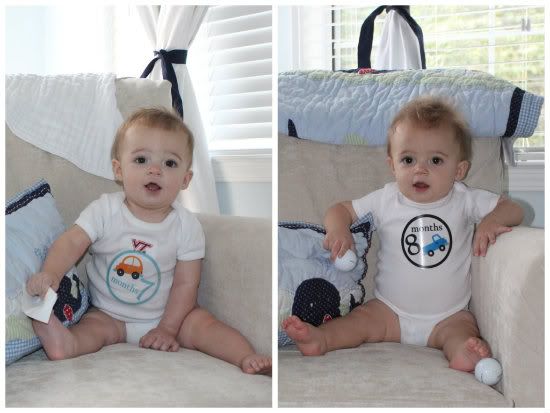 And in case you missed this hilariousness...baby decided to give daddy a shower before daddy gave him a bath :) uh oh!