We went to
visit Carter and Chad
a month or so back? Well, our life sort of changed forever that weekend and until now we failed to share it with some of you!
I'm PREGNANT ( I say "I'm" and not "We" because Hunter doesn't like it when people say "we" because he insists that HE is not pregnant) Whatever... :)
The Story:
...
A little while ago we had decided that February would be THE month. The first month we would "try." Since we've been together, and, well, you know, we have used the "withdrawal" method of birth control meaning I've never been on any pill or contraption or anything. For that reason, with our withdrawal method being successfully used for the past years we thought it might take a few months and fully expected a pregnancy over the summer. However, I'm a very regularly scheduled girl and I know my body very well so a part of me also thought we might succeed on the first time. Either way, we knew that if we tried in Feb and it worked we'd be ecstatic and if it didn't we would be okay with that as well since it was on the early side of us being ready for baby.
Ready or not here it comes! "That was easy" was the first sentence out of Hunter's mouth when we found out. Of course, for the next two weeks after we "tried" I was analyzing every little thing my body did. How often I was peeing, looking for implantation spotting, taking note of whether or not my breasts were more tender. And sure enough about a week after, I noticed all of the above. Then we traveled to Carter and Chads for the weekend and I LITERALLY got up to pee about 10 times in a 3 hour period of all of us hanging out in the garage chatting. So, we told Carter and Chad what was going on (being they are family) and got the exciting idea of taking a pregnancy test that weekend. On Saturday I was still 5 days away from a missed period and on Sunday 4. Saturday I took the first test, negative. I'd be lying if I said I didn't care. I was a little bummed. NOT that I wasn't pregnant but that I was feeling ALL of these symptoms and I wasn't pregnant. I started to think I was crazy and wondered if I was making all the symptoms up in my head. The mind is a powerful thing and I def. would not put that past me :) But I snapped out of it for the night, poured myself a glass of wine and we had a great time with Carter, Chad and their friends that Saturday night.
Sunday we woke up, went to church and on the car ride home I got a nauseous feeling. Is it just car sickness? Or am I and yesterday was just too soon to take a test? All these thoughts were going through my head. We got back to Carter and Chads and everyone dispersed to their rooms to change out of church clothes. I dispersed to the bathroom and secretly took another test.
Within seconds, POSITIVE!!!
I ran into the living room (where Hunter was) shaking, crying and holding the test asking him to look at it to see if he saw what I saw. After hearing the commotion Carter came into the living room to see what was going on. I showed her, and all agreed its was there...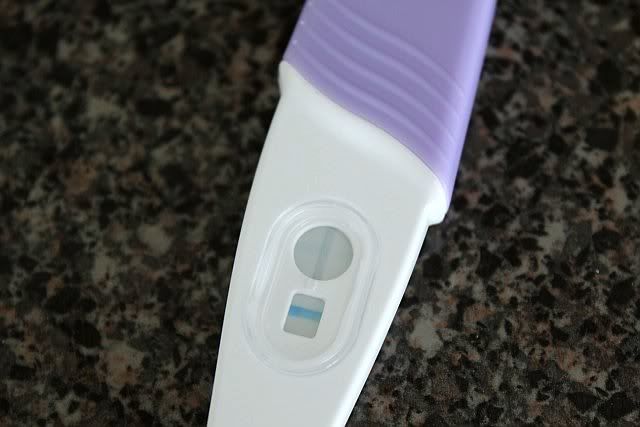 TWO lines, crossed, to make a positive. (I know its faint, but it was there!)
LOTS of hugs, tears and excitement went on for the next few minutes and I wouldn't have wanted us to find out ANY other way. I tell my mom everything, immediately, so it wasn't any big surprise when I called her right then and told her the news. She knew we had tried that month and her motherly instincts had already told her I was pregnant :) None the less, of course her and Dad are THRILLED for us!! (and themselves) :)
The rest of the afternoon we spent doing an answer and question session with Carter and Chad....really nice having them there, being they JUST went through all of this. Carter sent me home with her "What to expect when expecting book" and our 4hr car ride home FLEW BY! (even though I made Hunter stop TWICE so I could pee) :)
There ya have it, I'M pregnant, WE'RE having a baby. The doctors say baby Lunsford will be here on November 1st! :)
And ANOTHER positive of having Carter and Chad there with us...we got some great pictures :) Thanks guys, we love you! xoxo