Had you lost hope on us and the blog? Sorry for the hiatus. Weekend travels and this new job of mine left no spare time for blogging. BUT, we're back with a 9 month post and I'm looking forward to getting back into blogging in general. I do enjoy sharing more than cute pictures of Hunter with you, home decor, crafts, party planning, what i wores.....I'm really looking forward to one last beach trip in September and then hunkering down for fall/winter. Summers are always sooooooooooooooo busy! Well without further ado...he's that adorable son of ours growing up WAY to fast.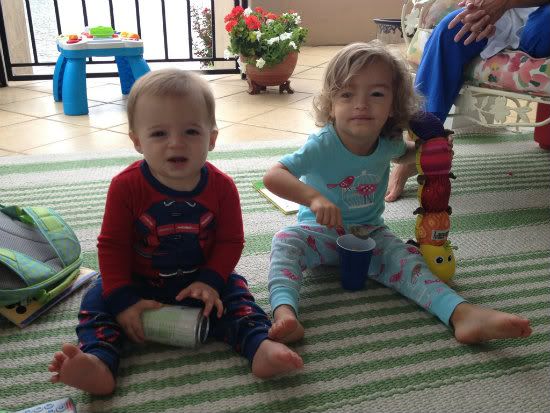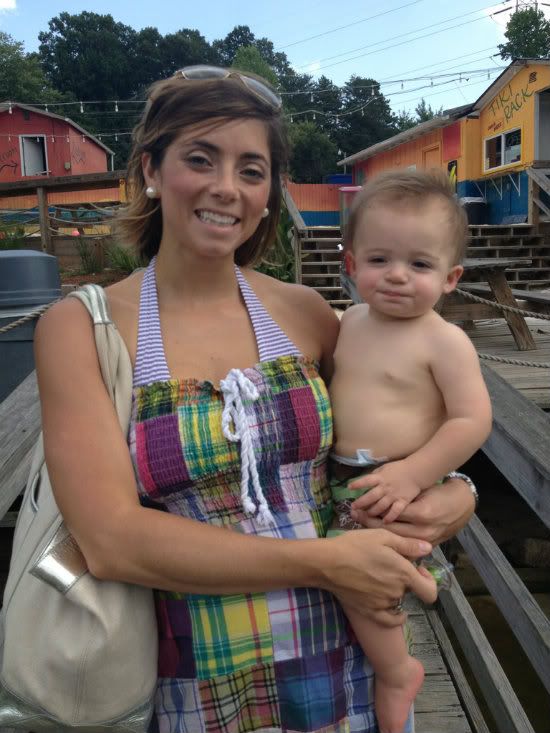 9 Months!
8 to 9 Months flew!! Not a ton has changed but your keeping us busy. You have the most unmanageable wild and crazy hair. Everyone comments on it and its practically your trademark. I swear we try to brush it but it just ends up sticking back up once it dries. Grami says its because you have new hair underneath growing causing the long hair on top to stick up. I agree…and regardless your cute!! xo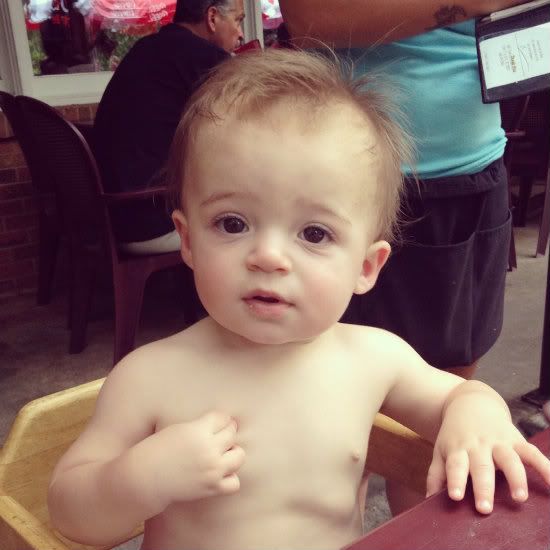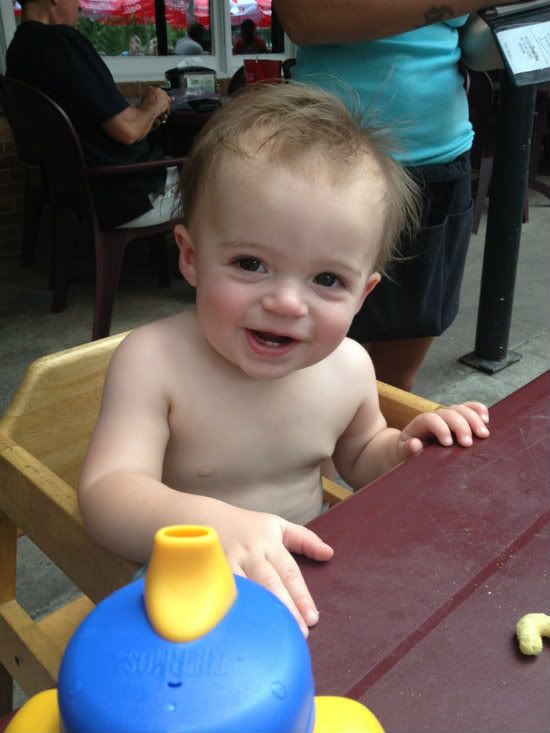 Size:
22 Pounds (75th percentile), 30 Inches long (98th percentile). Big daddy and I were laughing about the fact that one you and him are both going to be looking down on daddy. Daddy doesn't find it too funny though J 12 months clothes and sleepers are tight but you can swing them. 18 month clothes fit you better. I foresee you fitting in size 18-24 months this fall but by winter I'm sure you'll be in 2T. Mommy will be buying 2T if I want you to wear something the entire winter.
Development:
Your still crawling fast and pulling up on everything! You'll take a few steps with a push toy but haven't found the courage to try anything by yourself yet. You will let go of what your holding on to and stand unsupported for a few seconds. Ba ba, da da, ahhhhhhhhhh is pretty much your vocabulary. Nana taught you to cup your mouth back and forth to make Indian noises and that keeps you occupied in the car most days J Your great at feeding yourself now, you can pick up anything with your hands, hold a bottle well, drink out of sippys and straws!! Mommy will even put your fruit on a baby fork and hand you the fork to feed yourself with. You love it, but don't understand that you have to give the fork back to me so I can put more food on it! Oh and chompers…you have 6 chompers still. 4 on top, 2 on the bottom.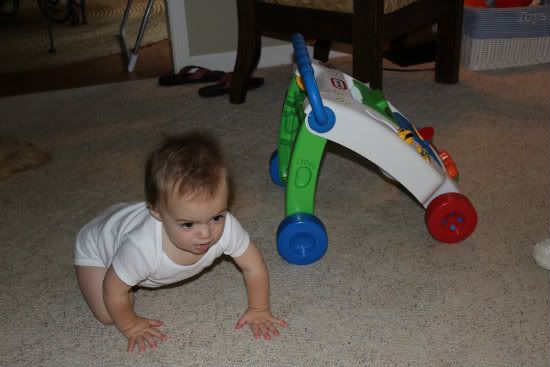 Personality:
Your very fun and very loving. You'll sit back and observe other people a lot. In the grocery store, on airplanes, and even other kids at daycare. You're so intrigued by what others are doing. Often times we have to apologize to other people because you are STARING them down. Haha. I think it's a great quality and I'm sure your little brain is working hard as your observe. You also like to be in the middle of the action. You love to be busy and around other kids. You're a great traveler and very go with the flow. You'll sleep and eat anywhere. You're not very patient though and def spoiled in the sense that you expect us to come to you and tend to you. If your just a few feet away wanting to be picked up, instead of crawling to me you will sit on the floor with your arms up crying big crocodile tears. It's actually quite sad and pitiful. You also get frustrated very easily. If you can't reach something you want instead of trying for a while and then moving on to something else, you try for a SECOND and then get very upset and start crying. Of course…we are always there to pick you up for help you get what you want. You ALWAYS win!! And I'm okay with that, for now. Overall, if we keep you well rested and fed you're a happy boy!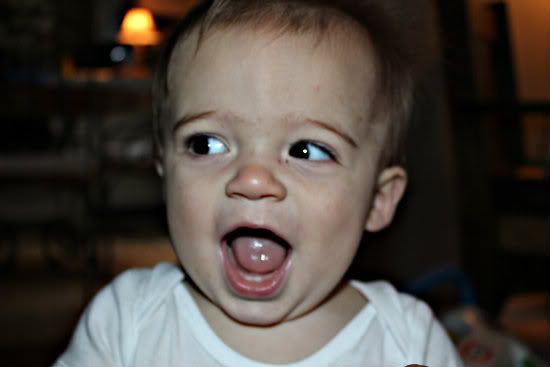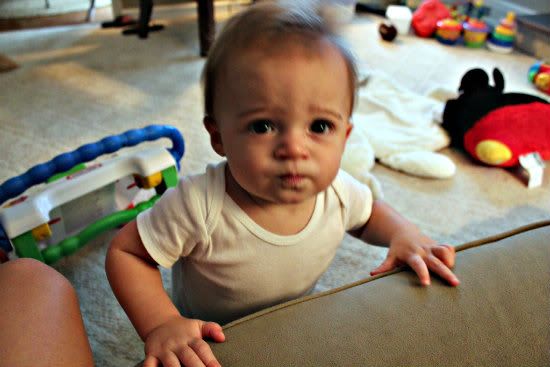 Eating:
We started meats this month. Sweet Potatoes pureed with chicken, and Chicken pureed with corn peas and white potatoes. So far you seem to like it. Your also eating yogurt and cheese. I'm starting to be a bit more relaxed with food and allowing you to at least try most things. You love fruit still and all things orange (carrots/sweet potatoes). Green beans, peas you could live without and unlike your mommy you don't love cheese so far either. Avocado you will eat depending on you mood. Lately you have been a pickier eater than I would like, crying and swatting at your mouth when we try to give you something you don't like. Hopefully it's just another phase…
Your waking up at 6:30am these days (WAY better than the 5am it was)
6:30am – wake to nurse and then get ready for school
8:45/9 – breakfast. Oatmeal and a fruit
10am – nap
11:30 – bottle of milk
12:30 – lunch. a fruit and a veggie
1:30pm - nap
3pm – bottle of milk and snack. Mum mum or puffs or yogurt melts
6pm – dinner. , veggie, and fruit and a meat
7pm – Bath, book, bottle, bed.
Sleeping:
I think we are overcoming the 5am wake up calls. Its been a while since we've seen that. 6:30 is the norm 7/7:30 on good days. You sleep 7:30 to 6:30 unawakened on most nights. If you do happen to wake up we just give you a paci and your fast asleep again.
Likes:
You just LOVE crawling around, up and down, and playing with toys. Balls, cars, airplanes are your favorite. You love anything that you can bang and make noise on too. You have drums and a piano that are lots of fun to bang. You also love your play table, never fails you crawl straight to that first, pull yourself up on it and start making noise. Your favorite books are touch and feel animals and American babies. Your favorite song is still "if your happy and you know it", and of course Mickey Mouse is a sure thing when it comes to putting a smile on your face. Chica Chica boom boom keeps you entertained in the car. And if all else fails….your paci has NEVER let you down. You are a paci lover!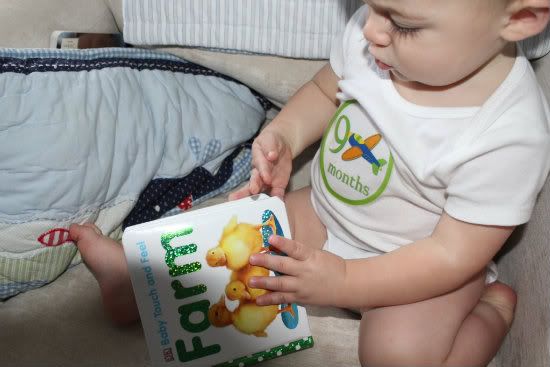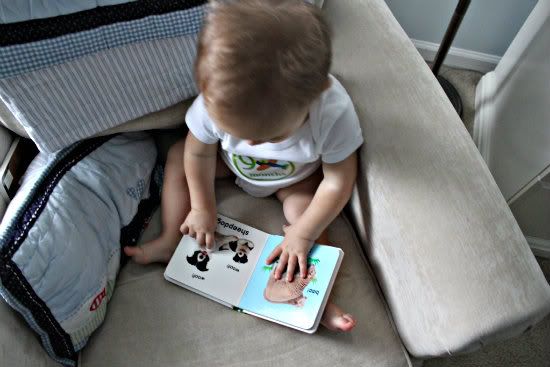 Dislikes:
I also think we have overcome the water on the head thing! You don't cry anymore you just hold your breath, close your eyes and make a disapproving scream. But you put up with it!