10 Months!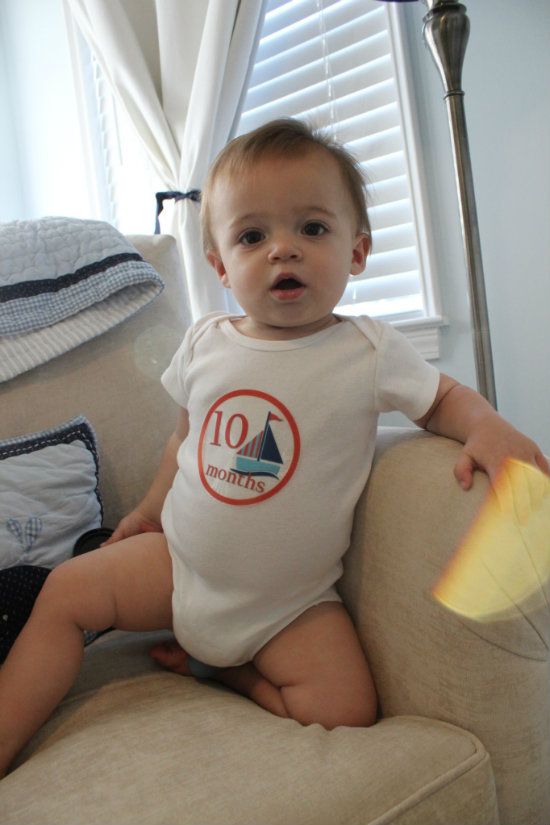 Size: 22 Pounds (75th percentile), 30 Inches long (98th percentile). We need the weather to start cooling off here in Charlotte NC because you DO NOT fit in your summer clothes anymore but mommy refuses to buy new ones with fall right around the corner. I think you have a few more weeks out of your 12 month sleepers but we have 18 month ones ready and waiting. I've started buying you a few fall things some in 18 months some in 24months. The 24 month items look huge but I'm afraid the 18 month stuff won't fit you all winter. We bought you your first pair of real pre-walker stride rite shoes, your shoe size is a 4.5. And most importantly, we went to VT a few weekends ago and got you some Hokie gear!!! Big daddy bought you a VT hat that I just can't get enough of it, you look adorable!!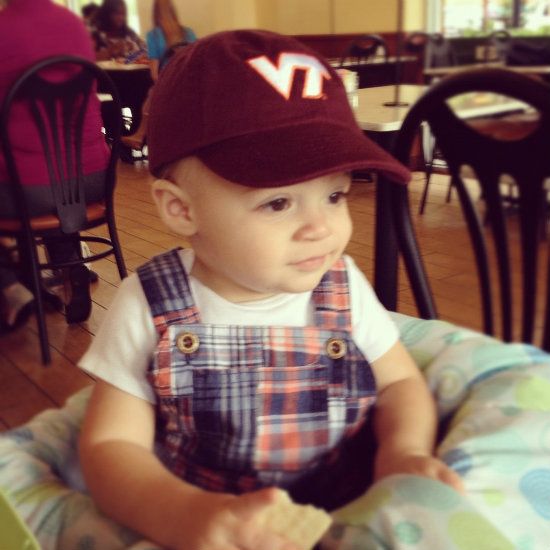 Development: You are one smart little boy!!! You pick up the house phone or a cell phone and hold it up to your ear as if your talking on it. You can really play with your toys now placing rings on your ring stacking toy and blocks where they belong. You've started pointing at things you want to see and you are constantly babbling. You say Jake pretty clearly (to us), and of course mama, dada along with tons of other babbles. I really wish I knew what you were saying because you certainly know exactly what your saying and what you want! You can also sign "more", and clap your hands and I know you CAN wave bye bye however you rarely do it on command. You have started dancing when you hear music especially during the Mickey mouse club house hot dog dance. I must day for a 10 month old you have some serious moves and rhythm!! As far as walking goes you're not showing a ton of interest. You pretty much feel good about the fact that you can get where you need to go faster and with less concentration by crawling. You are cruising the furniture a lot though and will walk with someone holding your hand so I'm sure it's not too far away before you take off. We had a rough month on the teeth front. Fevers and loss of appetite resulted in 3 new teeth! Two more on the bottom and a molar! Your teeth count is up 9 (4 on top, 4 on bottom and one molar) that mommy can see! I'm sure more molars are on their way. Another development this month is you've become good at drinking out of a straw. I've have essentially skipped over sippy cups and gone straight to straw cups for your juice and water.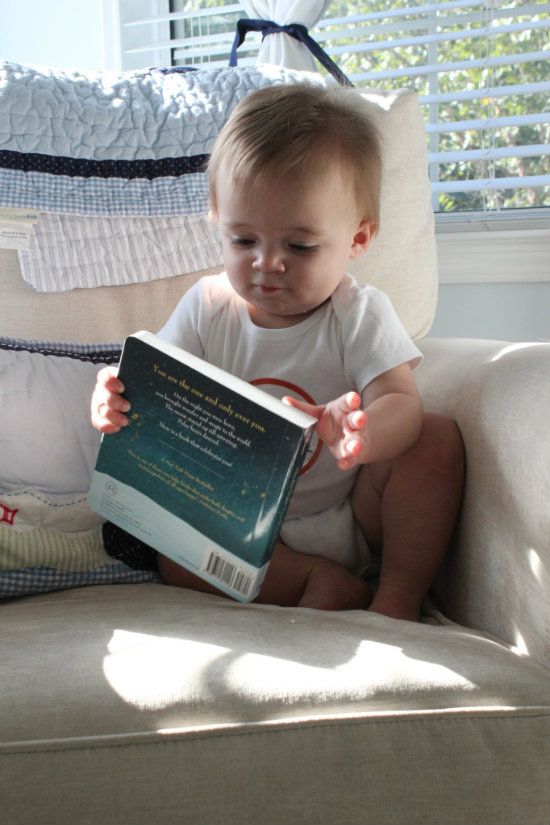 Personality: Clingy clingy Clingy. You LOVE to held and played with and ALWAYS want to be by mommy or daddy's side. If other kids or people are around you it's easier for you to play with them or alone but if it's just you and I or you and daddy we best be close! You have a zillion different facial expressions my favorite being your smirky smile. You used to smile wide mouthed but now you give this close mouthed smirk and its simply adorable. You love being silly too. Watching people dance and act goofy always makes you laugh. You have a very sweet side but you are also ALL boy!! You want your attention when you want it and even pinched mommy the other day in order to get my attention when I was talking to someone else! Whoa! You also don't know your strength, pulling at noses, hair, and jakes hair just grabbing to grab and being a rough and tough boy. Overall, if you get your sleep and get what you want you're a happy baby and we like you to be happy, so I'll admit…you get what you want most the time. (whichin reason of course).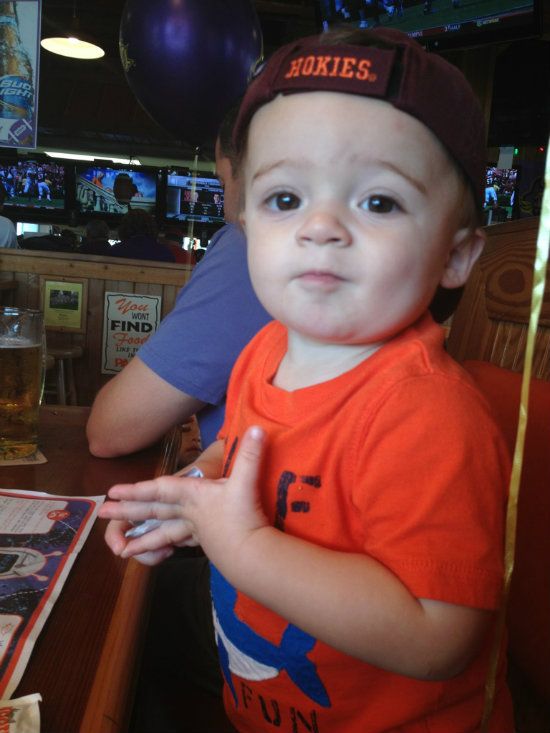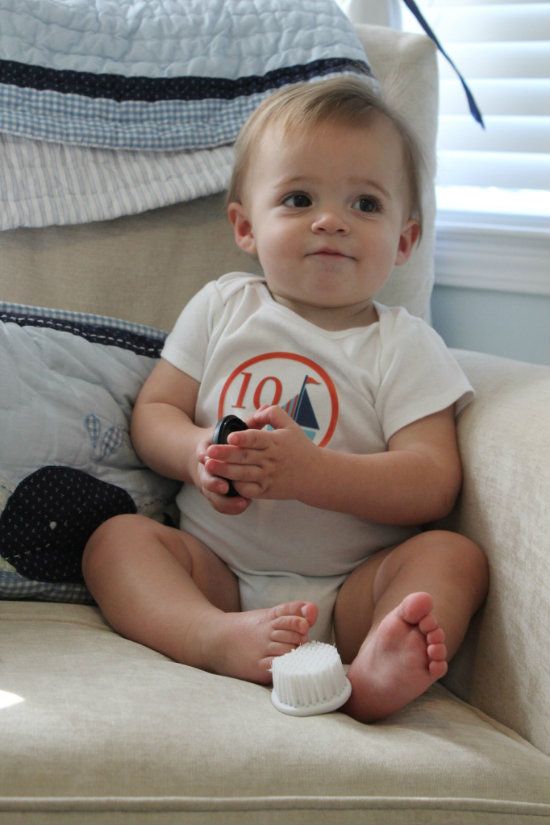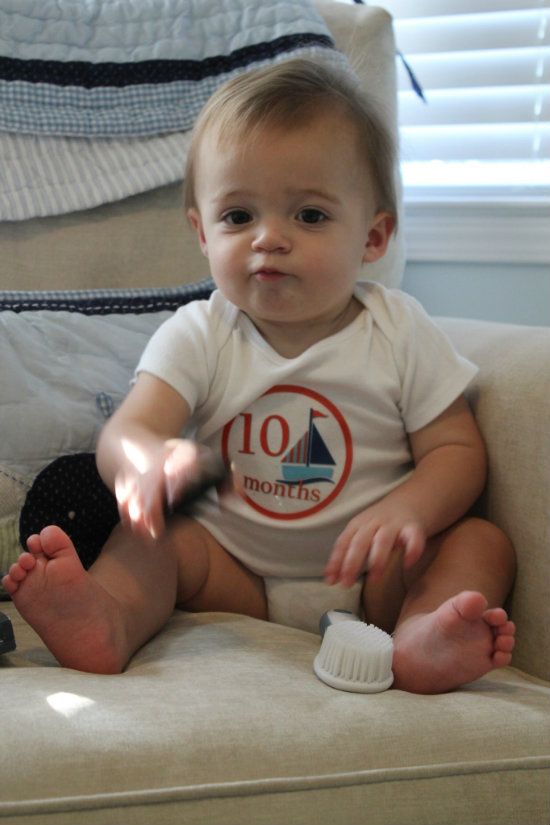 Eating: You are becoming a great eater! You love feeding yourself diced food and I'm trying to feed you less purees and move finger foods. Diced chicken, veggies, ground beef, grilled cheese, deli sandwiches, beans, corn, avocado and all kinds of fruits. You name it, you eat it. Your taking to cheese more and more but still not a fan of cottage cheese or pureed peas. But you will eat whole peas I place on your tray. You love cheerios, and yogurt for breakfast but PUFFS are still at the top of your favorite food list. We knew your teeth were hurting you when you denied your puffs one Saturday. Poor baby L Your still getting four bottles of formula a day (yep mommy finally stopped nursing) but a sippy straw cup with snacks and dinner.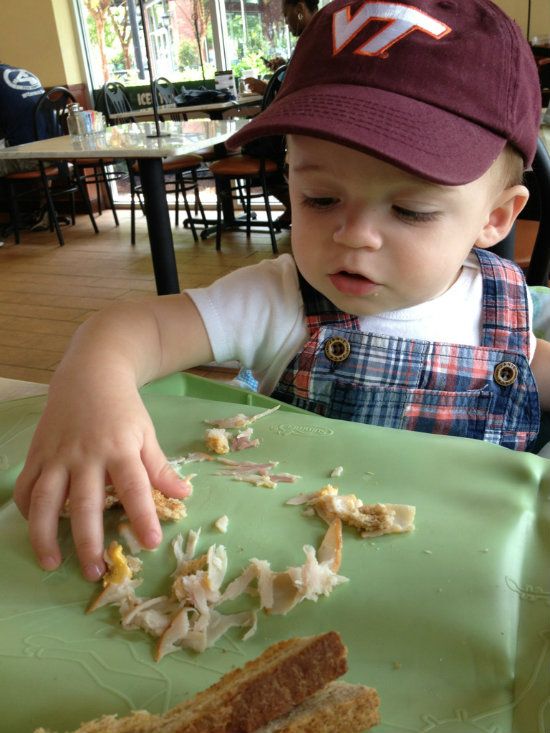 Your waking up at 7AM these days sometimes 7:30!!! 7am – wake up and 8 ounce bottle 8:45 – breakfast 10am – nap Noon – lunch w/ bottle of milk 6 oz 2:30pm - nap 3:30pm – 6oz bottle of milk and snack. 6pm – dinner w/ sippy 7pm – Bath, book, 8 oz bottle, bed. I'm starting to think about how to transition you from your bottles to all sippy's but the problem is you won't really drink your milk out of a sippy cup (only water or juice) you just know your milk is suppose to be in a bottle. With this said I have a feeling we won't be transitioning until you transition to whole milk. Perhaps you'll drink that out of a sippy since its different than your formula. We'll see…. Sleeping: You're a GREAT sleeper!! You go down easy for your naps, twice a day usually an hour to 2 hr naps even. A night you sleep 7pm to 7am! If you do happy to wake up we just give you your paci and you fall right back asleep. (knock on wood)
Likes: Ball toys, playing with jake and throwing him his ball, car/train toys, touch and feel books, your American and global babies books, banging things together to make noise, phones, remotes, computers (but only ones that work and you're not suppose to have:). Mickey Mouse clubhouse is your favorite show but you will certainly watch other Disney channel shows too. You are addicted to your pacifier and love your lovie at bed time.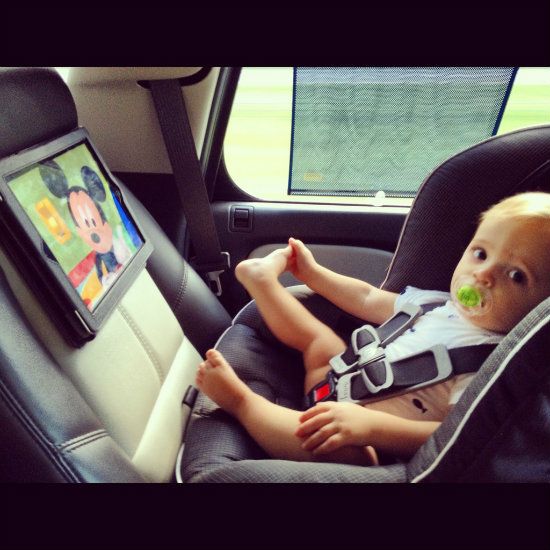 Dislikes: Mommy walking away from you, pureed peas, being tired and growing teeth