11 Months!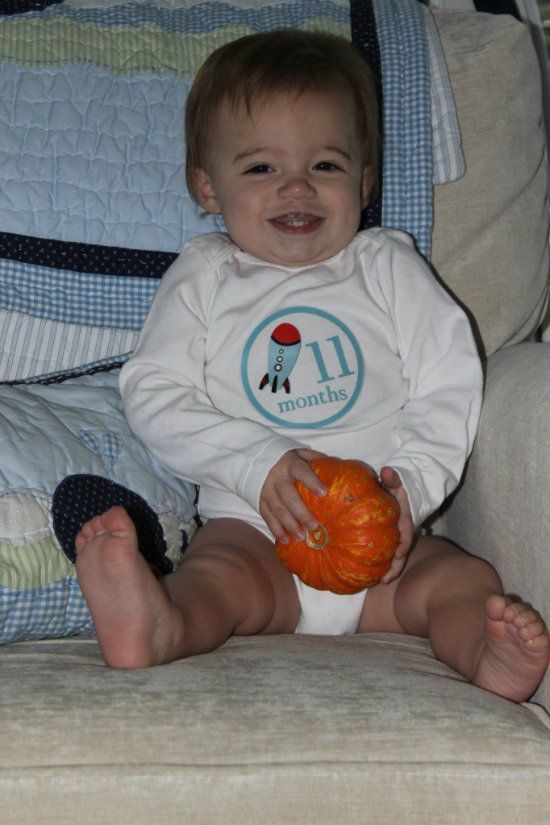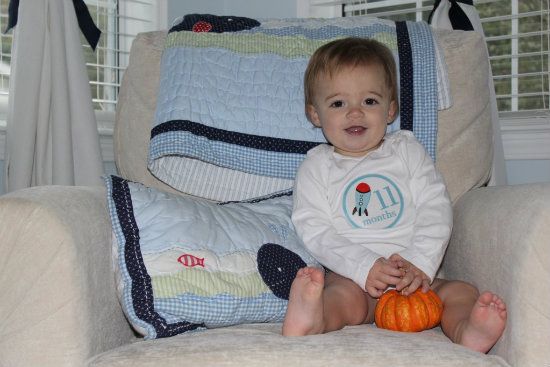 AH! How did we get her? Four weeks and counting!! Your little monster 1st birthday party is well under way and all of your friends and family will be there to celebrate the big day. We love you little man and def can't imagine our lives without you!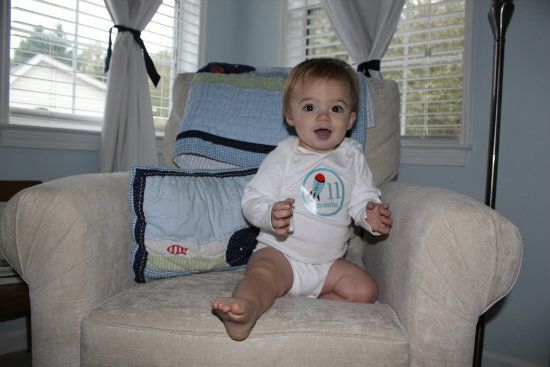 Size: 22 Pounds (75th percentile), 30 Inches long (98th percentile). It truly depends on the stores but mostly you fit into 12 month pants, 12-18 month shirts, and either 12 or 18 month Jammies. 18month are a little baggie but wearable, 12months are getting snug! I actually hope you do grow in the next couple months because most of your winter stuff I bought for you is 18 months or 18-24. And now I'm hearing that once you start walking you might slim out a bit. Hmmm we might be in trouble.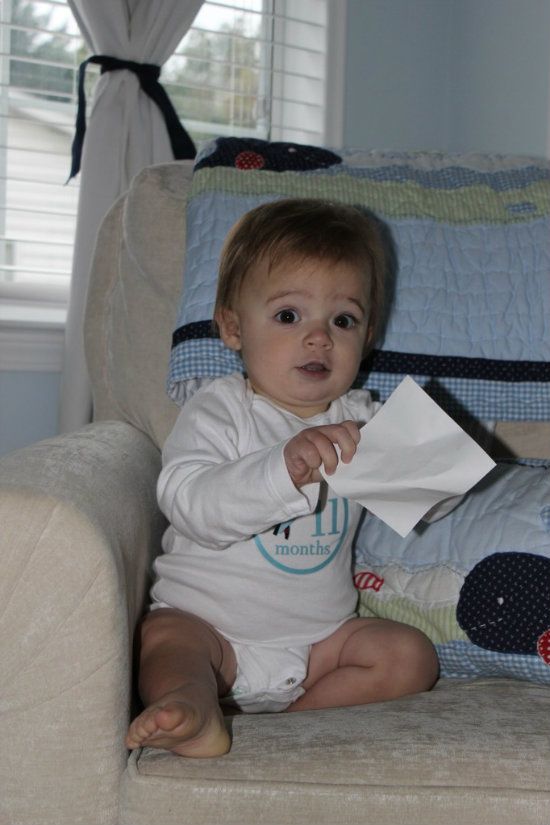 Development: Mama, Dada, Jake and lots of babbling is your vocabulary extent. You crawl like a mad man at lightning speed and CAN walk across a room if you WANTED to. We've seen you do it and you do it well. BUT…you just don't want to. I'm okay with that…I know you won't crawl forever but I am starting to wonder if you'll walk before your one year birthday. You clap, and wave bye bye, can sign more and all done. Although u seem to think screaming when you're done eating is more effective…I'm here to tell you it's not. Your really playing with your toys the way they should be played with. Holding phones to your ear, putting blocks where they belong, putting balls in the ball machine over and over again, and pushing pop up toys down and then pulling levers to make them pop up again. The morning you grabbed mommies hair clip and put it up to your hair. I think I put that in your hair once to show you what it was for WEEKS ago and you must have remembered. You love to feed yourself, even with a spoon and fork if we put the food on the utensil for you. And everything you drink out of a sippy is a straw sippy. You won't even take a regular sippy at all anymore. A bottle and a straw are the only two things you'll drink from. Let see what else…..if you spot Jakes ball your crawl full speed to it, grab it and throw it to him. Your "throw" is more like an under hand toss but Jakes gets what your trying to do and really likes it!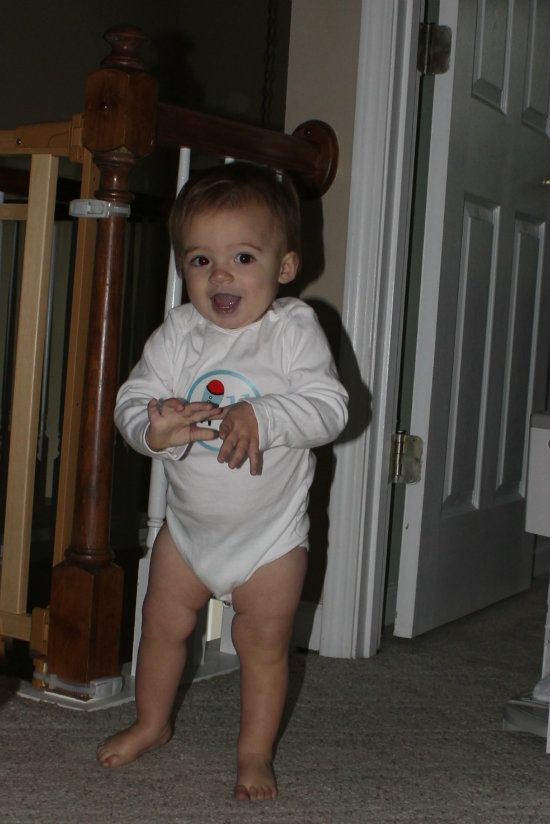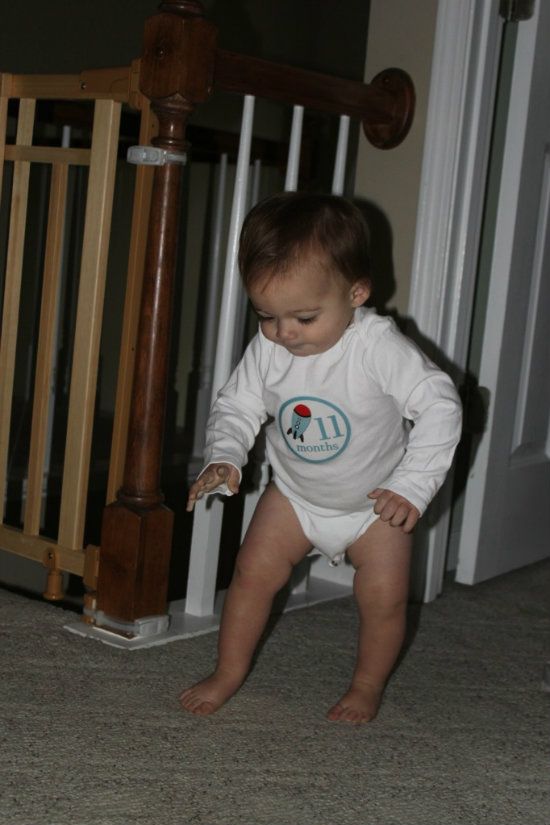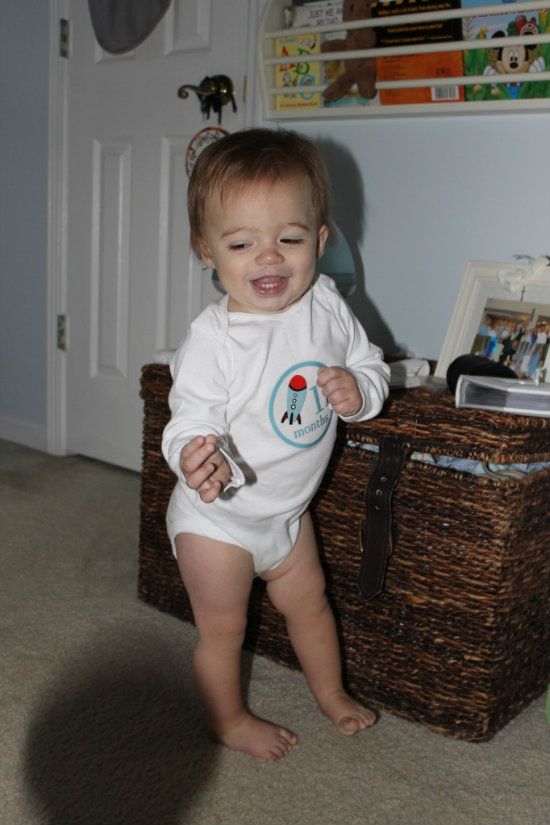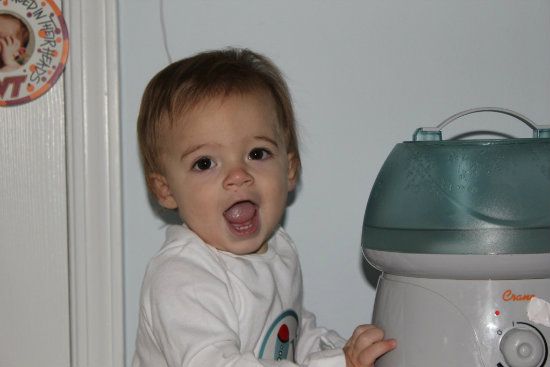 Personality: Your lots of fun and a happy boy. If you're doing something you know you're not supposed to, like playing with jakes food bowls, you'll crawl over to it and then look back at us and smile/laugh waiting for us to chase you down or tell you no. Daddy pointed his finger at you the other day and told you "NO" and you pointed back at him and laughed. Haha. All we could do is laugh. You love to crawl and have mommy "get u" it makes you giggle knowing your being chased. Other things that are sure to make you smile and laugh are your popping ball machine, peek a boo, popping bubble wrap, chasing after Jake, singing "the wheels on the bus" song and last but most important the end song to Mickey mouse clubhouse (the hotdog dance). You LOVE music and LOVE to dance. And you LOVE to LOVE. You give lots of snuggly hugs during playtime and there's nothing better than feeling your arms wrapped around my neck. You're a sweet and laid back boy. At school the teachers tell us that when kids take toys from you, you just look at them and find a new toy. You're not rough, or mean, or a toy taker yourself. Your very even keeled and laid back (as long as you're not tired). I hope this personality trait continues as you grow and play with other kids.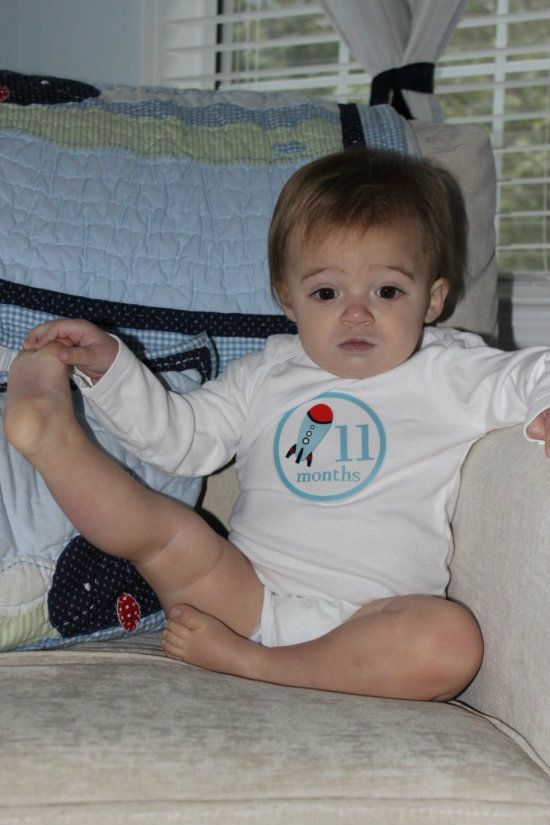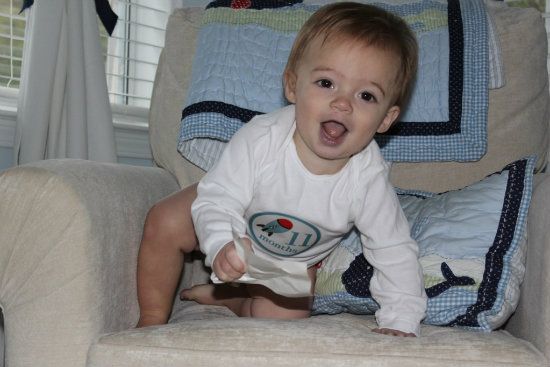 Eating: At least point we are pretty much feeding you anything with the exception of eggs whites, peanut butter and nuts. You haven't been allergic to anything yet so I'm sure all will be fine but we'll wait another month until we try these. 4 more weeks of formula and then its whole milk for you buddy!! Mom and Dad can't WAIT to save the extra bucks, and not have to make bottles anymore. Some of your favorite foods are…chicken, hamburger, pulled pork, deli meat..you name it, you're a meat man! You love carrots, peas (just not mashed), spinach, corn, beans, sweet potatoes but you aren't a fan of broccoli or cauliflower. Fruits…you name it, you'll eat it with the exception of raspberries. Too tart! We tend to feed you lots of cantaloupe, strawberries, blueberries, peaches, pureed apples and pears. For breakfast you mostly eat yogurt or oatmeal with a fruit but sometimes we'll mix it up with an occasional waffle or pancake (no syrup!) We have started giving you gram crackers as a dessert and you love those AND you even had half a cupcake the other day at school in celebration of Jaydens' birthday. It was your first cupcake and mommy was hesitant but I figured you should have it considering your about to have one of your own in a month for your birthday! xo
Whatever we are feeding you there is one tell tale sign on whether you like it or not...you dance!! If you are loving what your eating you bob your head back and forth swing your body side to side and do a little happy dance in approval. It's so cute! Yum Yum! Your waking up at 7AM these days sometimes 7:30!!!
7am – wake up and 8 ounce bottle
8:45 – breakfast
10am – nap
Noon – lunch w/ bottle of milk 6 oz
2:30pm - nap
3:30pm – 6oz bottle of milk and snack.
6pm – dinner w/ sippy
7pm – Bath, book, 8 oz bottle, bed.
I'm starting to think about how to transition you from your bottles to all sippy's but the problem is you won't really drink your milk out of a sippy cup (only water or juice) you just know your milk is suppose to be in a bottle. With this said I have a feeling we won't be transitioning until you transition to whole milk. Perhaps you'll drink whole milk out of a sippy since its different than your formula. We'll see….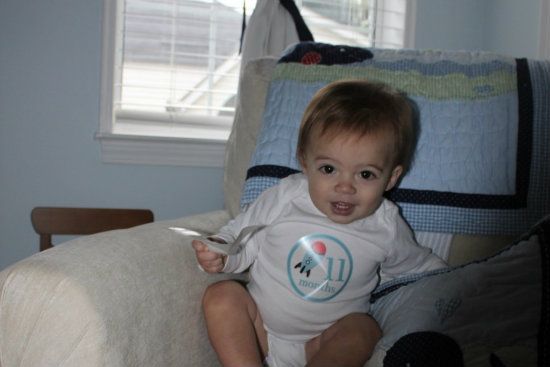 Sleeping: You're a GREAT sleeper!! You go down easy for your naps, twice a day usually an hour to 2 hr naps even. At night you sleep 7pm to 7am! If you do happy to wake up we just give you your paci and you fall right back asleep. (knock on wood)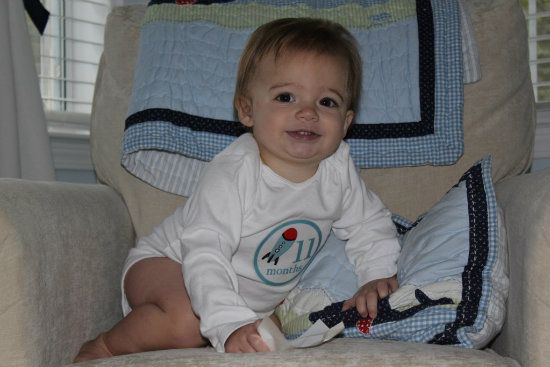 Likes: Ball toys, playing with jake and throwing him his ball, car/train toys, touch and feel books, your American and global babies books, banging things together to make noise, phones, remotes, computers (but only ones that work and you're not supposed to have:). Mickey Mouse clubhouse is your favorite show but you will certainly watch other Disney channel shows too. You are addicted to your pacifier and love your lovie at bed time. Opening and closing drawers/cupboards, jakes food/water bowls, and cords!! We have to keep our eye on you! Lastly, MUSIC and mommy singing to you.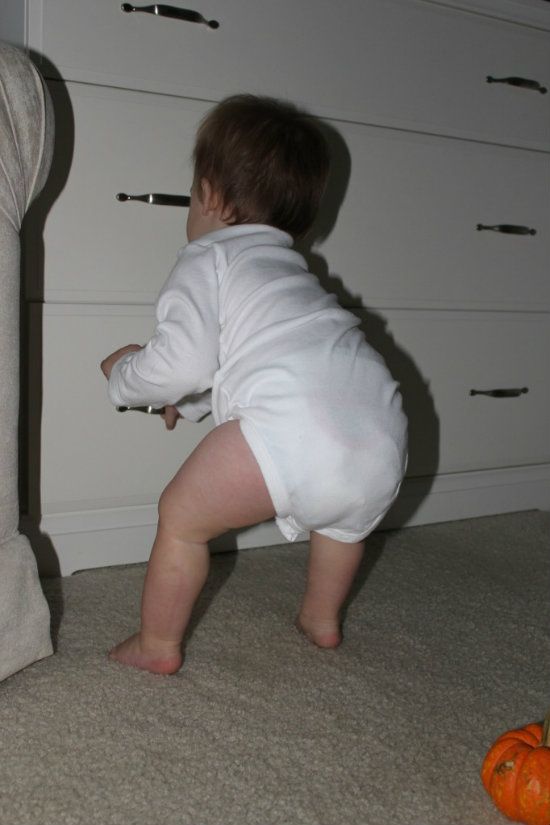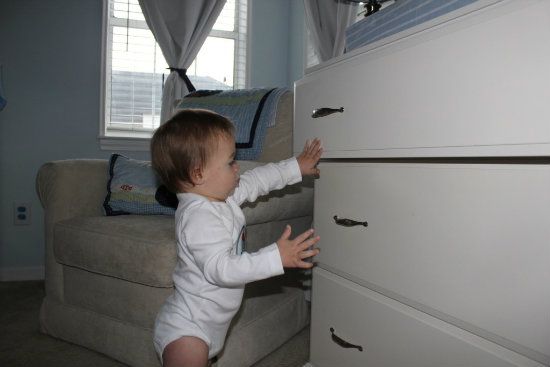 Dislikes: Mommy walking away from you, pureed peas, being tired and growing teeth, bath time when you're tired and you HATE putting pajamas on. Daddy and I can't figure out why but you scream every time, no fail.