Last weekend Big Daddy scored a big ole passenger van for the WHOLE family to high tail it up to Blacksburg for the VT vs. Duke football game. Grami came, Grandaddy came and it we were all excited for HL5's first hokie game!!!
He really enjoyed the tailgate, i think it was his favorite part (just like his mommy :) )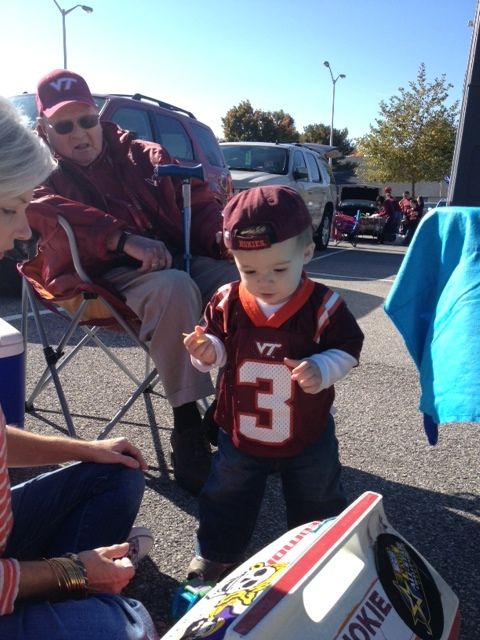 Once we got into the game it was 12:30pm and we were napless at this point so he managed to sneak in a 20 minutes snooze in my arms. It had been a LONG time since that sweet baby has slept in my arms, i loved every second.
Since his nap didnt last long enough we were a big restles in that stands. So we found a grassy spot in the stadium (but out of the stands) and spent the rest of the game playing with Grami!
Hopefully next trip he'll last long in the actual stands and see more of the football game but overall he did really well considering he had a 20 minute nap all day as oppose to his usual 2 to 3 hrs! Sunday morning we had to wake him up at 9:30am so we could go to church. I'd say he was a little tired.
We'll never forget baby's first hokie game though. Thanks for organizing Big Daddy!