And still cookin :)
I know lots are interested in how my appointment went this morning so we'll get right to it with an update. I'm 1cm. yay! better than nothing and the Dr. I saw this week agreed my Dr. last week was probably just being nice by telling me i was 1/2 a centimeter but this week I'm a LEGIT 1cm. :) They are having me come back Friday morning where I'll be checked again and no matter what I'll be induced either Monday or Tuesday of next week. Depending on how much more dilated I am on Friday will tell them when I need to come in to be induced. If I'm still only 1cm the induction will take a bit more work so they will have me come to the hospital Monday night. If by Friday I'm 2 or 3cm then I can wait and come in Tuesday morning for the induction since my body will have done more of the induction work naturally. Makes sense to me.... And of course I'm not loosing hope that little man and my body may still decide to do their thing naturally sometime in the next week.
On to the survey...
Size of baby:
A watermelon. My guess is a almost 8 pounder!
Weight Gain:
168. 38 pounds and feeling like it.
Maternity clothes:
strugglin. It's coooooold here and most my maternity tops are sleeveless. Solution? I paired a non maternity long sleeve shirt (that doesn't cover my belly) UNDER a maternity sleeveless shirt for the belly coverage. And all in all I really could care less at this stage in the game :)
Gender:
It's a boy Hunter Lee Lunsford V
Movement:
Still moving good for me. Feeling feet and knees on my right side and his back/bum arch all through my middle section. Can't wait to see that little bum in person :)
Sleep:
Getting worse for sure. The past couple nights I'll wake up to pee and it will take me a couple hours to fall back asleep. I'm either analyzing any contractions I'm feeling, or he's moving around a bunch at that time and keeping me awake. I def think we're going to have some work to do in straightening out this kids days and nights :) I'm not feeling ALL that tried during the day though I think this not sleeping as well thing is a great way to ease me into the sleepness nights with a newborn.
What I miss:
Everything about not being pregnant. I think that sums it ALL up :)
Best Moment this week:
Today, going to the Dr. having a came plan in mind and feeling better about where things are going. Last week was tough just thinking every day was the day and it wasn't. Yesterday was pretty great too shopping and lunching with a bestie :)
Looking forward to:
Having this baby! And holding him and kissing him, and changing his diaper and feeding him. All of it!
Cravings:
none
Symptoms:
Lots of contractions but they never get progressively worse and they always seems to go away at some point. Back soreness, harder time sleeping, nasal congestion especially at night I can't breath through my nose.
Pictures!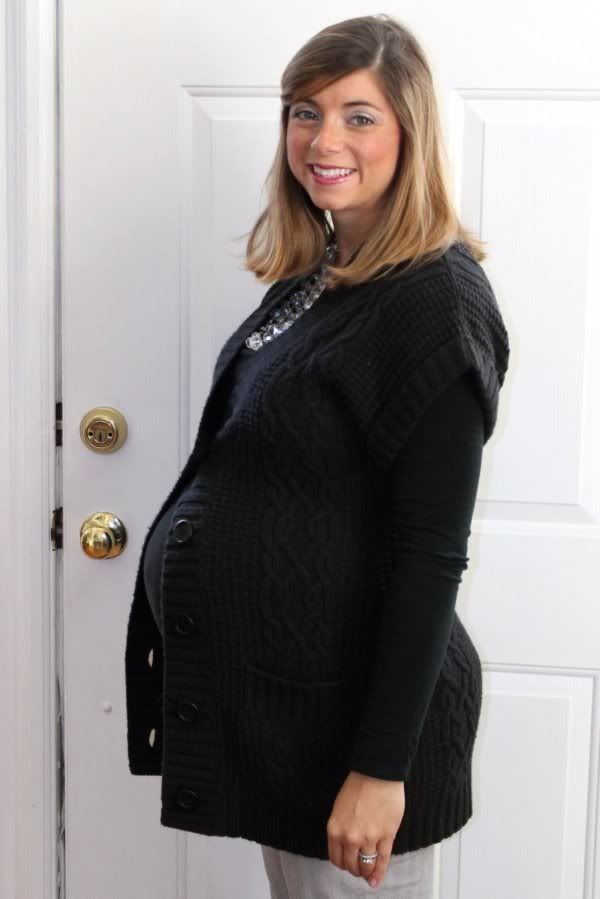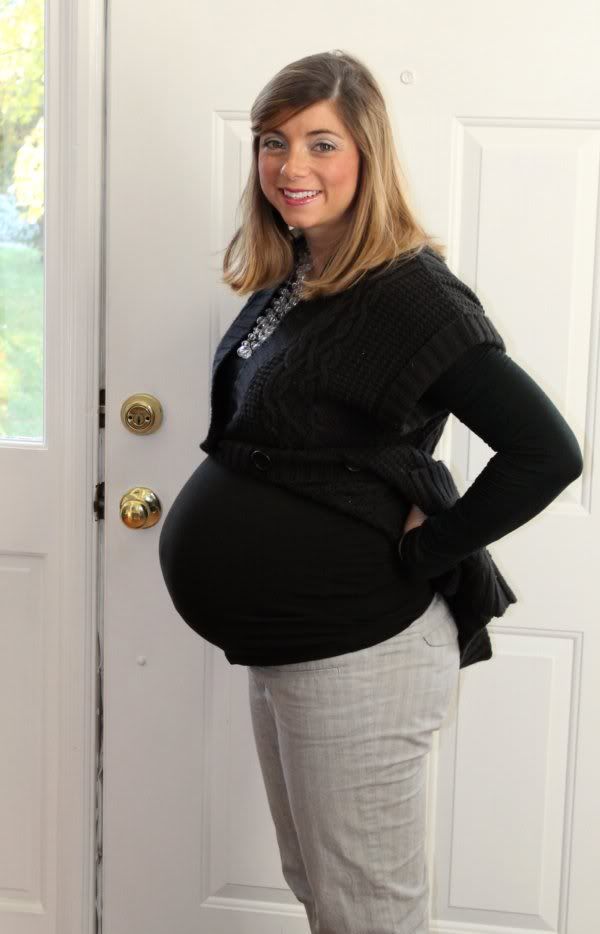 Well it's been fun! Considering I'll be induced next tuesday I'm gonna say this is the last weekly survey. Thanks for following and BIG thanks for all your kind words of encouragement you guys bring every week. Your sweet sweet people! xoxo