7 Months!
6 to 7 months was huge!! It marked your first teeth, your first ear infections, and your crawling!!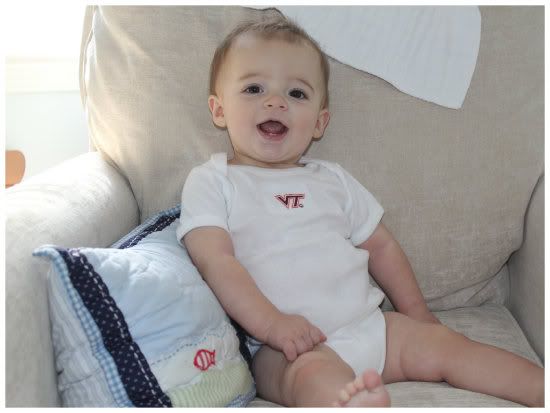 Size:
21 pounds and I'm going to guess 29 to 30 inches. You seem so tall to me lately but haven't been measured by the Dr. in a while. You've just about outgrown your 9 month sleepers length wise and in the feet. so it's onto the 12 month ones for you. Clothes depending on the brand and how they size you are in 9 months, the size 6-12 months. Or even some 12 months. Diapers you are in size 3 but can easily fit in size 4. You also upgraded to a big boy Britax carseat this month! Mom couldn't carry your solid 21 pounds in your infant carrier anymore.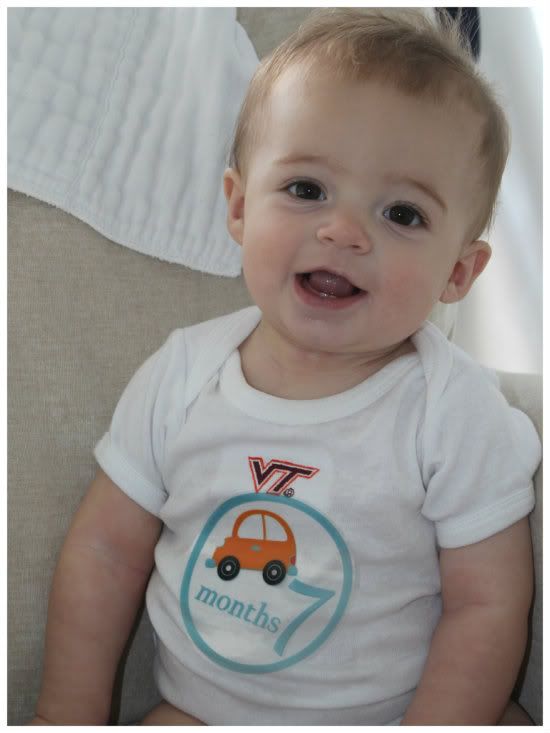 Development:
You mastered sitting up from the crawling position which means you have found a new love of playing sitting up in your crib instead of sleeping. And just a week ago you started full on crawling. You're not super-fast yet and I can tell you still have to concentrate a bit on it but none the less you're on the move. You seriously are a STRONG baby. You'll put all your weight on one arm in order to reach for toys, you pull yourself up on our fireplace and just pretty much muscle your way through getting to where you want to be. You have also mastered feeding yourself a bottle and are getting good at the sippy cup too. Mom can lay you down (propped up with a pillow) with a bottle and you can feed yourself. I actually passed a bottle back to you in the car on the ride home from Aunt Carter and Uncle Chads last weekend and you fed yourself in your car seat. It's such a nice treat for Mom! We give you a sippy cup with water or juice after your meals in your highchair and that you can do yourself as well. Your still fascinated by your hands, I often catch you just staring at them and as a typical boy you love to bang things together and make lots of noise while playing!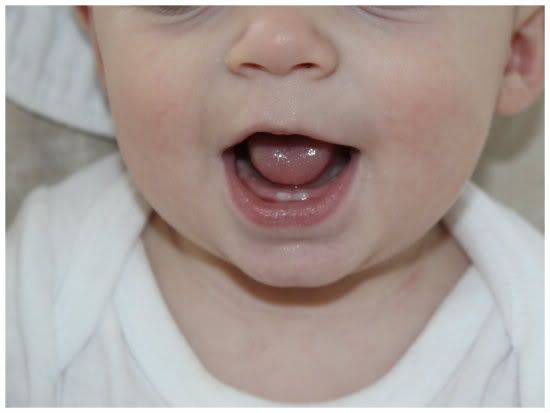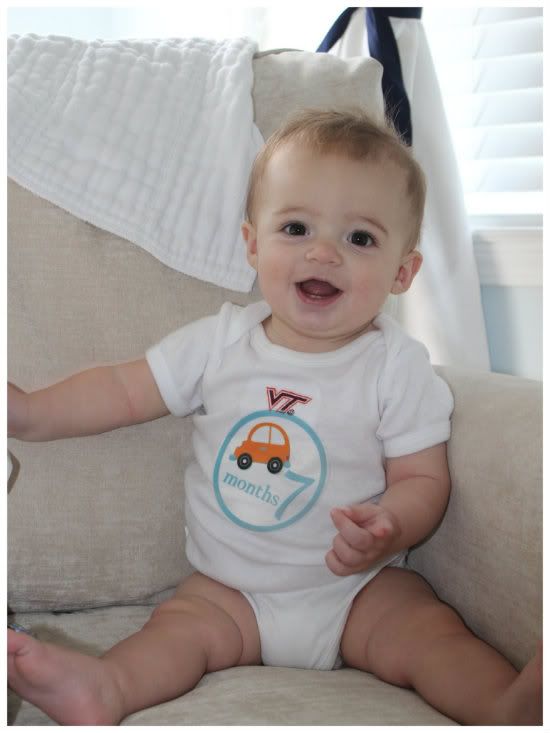 Personality:
If you are fed and not tired you are generally a happy baby. However, I think with your ear infections, new teeth, crawling and some separation anxiety setting in you are a bit crankier than you've ever been. You'll even cry at times when we leave the room. You're a super sweet and fun boy though. You holler and screech in excitement and give mom the best open mouthed kisses. If I'm sitting on the floor you'll crawl over to me and burry your tired little head in my lap. Ah how I love you!!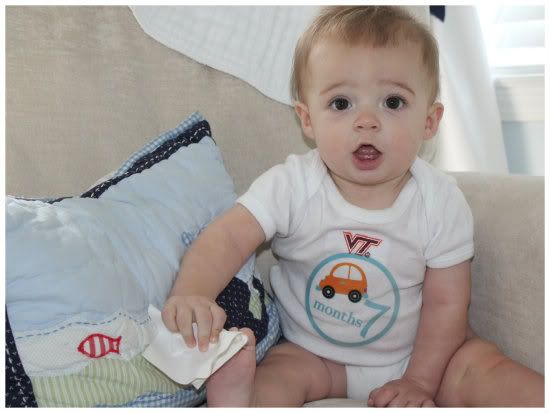 Eating:
So far the fruits you have tried are…apples, pears, bananas, prunes, mango, pumpkin and avocado. The veggies you have had are sweet potatoes, yellow squash, peas, potatoes, green beans and carrots. Your favorite fruit by far is apples or pears, your favorite veggies are carrots, yellow squash or green beans. Your not a big peas fan. You eat 3 meals a day and have 4 feedings of milk a day.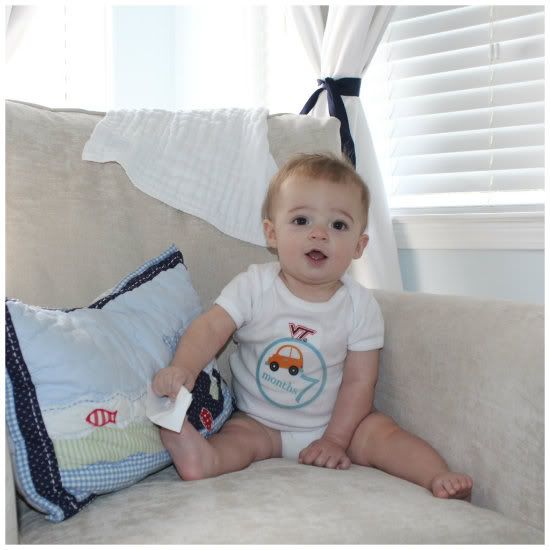 Sleeping:
New teeth, crawling and separation anxiety has taken a toll on your sleeping habits as well. Poor little guy. Its not every night but there are those night where you wake up crying a few times and we have to console you back to sleep. Usually a paci and a belly rub does the trick but a few times mom has gotten desperate and I've nursed you in the middle of the night. That ALWAYS does the trick ;) Last night was a better night though, so hopefully we are on our way back to our 7pm to 6am through the night sleeping routine.
Likes:
Singing if your happy and you know it, watching mickey mouse club house. When mickey mouse comes on your face lights up with that wide mouth smile and your flap your arms in excitement. Haha, its really cute. You love that little mouse. Your still a big fan of the pacifier, a lovie when you sleep, being held, playing with toys typical baby stuff. You also love Jake and think he's pretty hilarious.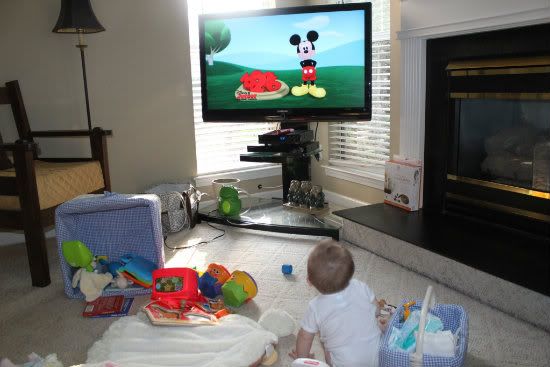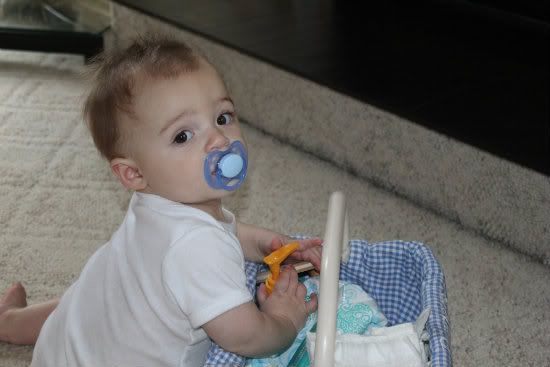 Dislikes:
Not a big fan of the bath these days and you HATE having water on your head/face. You also don't like being tired. If your tired the world is ending.