3 months old marks a big milestone to me you are not a newborn anymore but a developing infant. You went through another big growth spurt, I can see you learning now, and you started daycare! aka school. Mom and Dad pay tuition not day care costs! :)
Size: Size 2 diaper, 6 month onesies and sleepers, 3-6 months pants.
Height: 25.5 inches
Weight: 15 pounds
Development: You are learning so much everyday! Your grabbing at toys more and have found out how to put things up to your mouth.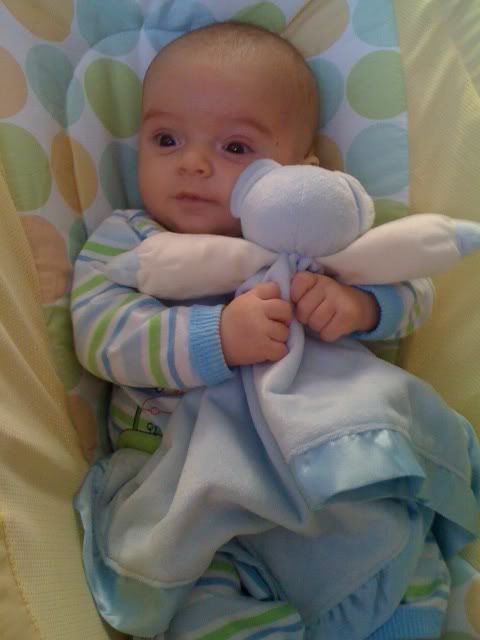 You LOVE eating (sucking) on your hand even if your not hungry.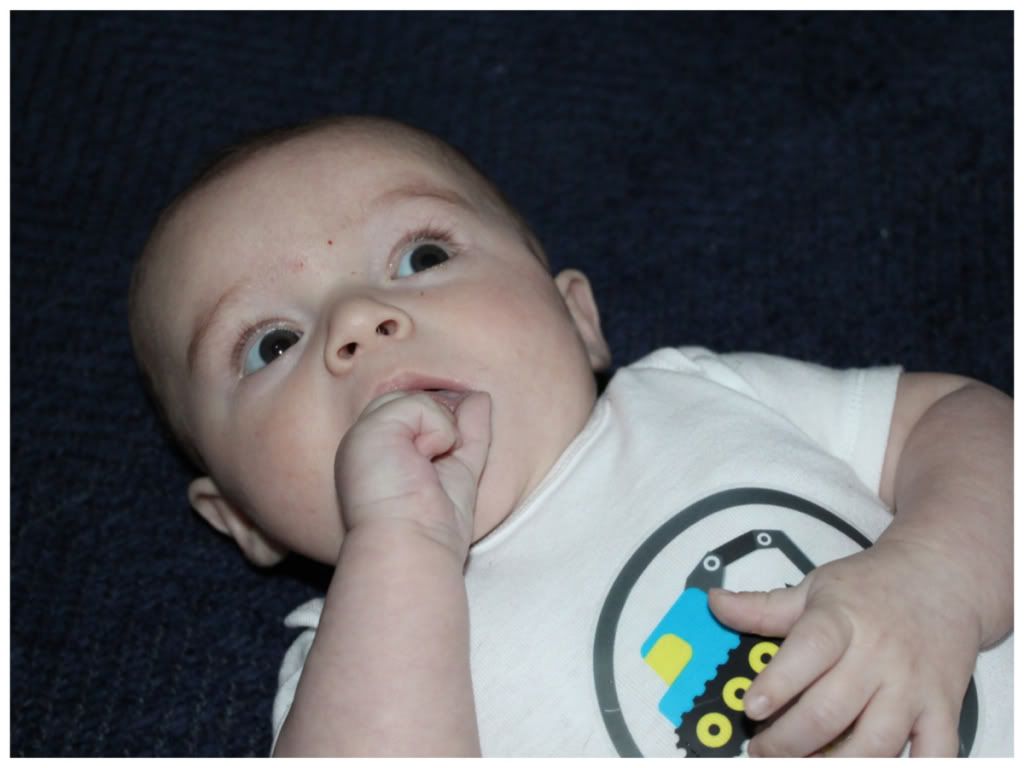 I also think you found your feet the other day while in your carseat. Your eyes just kept looking down at them in amazement.
My favorite development of yours this month has been your talking! You coo and gab soooo much now and its the cutest thing in the world. I really think you know what your saying and one day I'll understand what your saying too buddy. Won't be long! You also give lots of heart melting gummy smiles too! As your Mom I love it when you smile because that tells me your happy and I ALWAYS want you to be happy :) Lastly your very strong. You love to lock out your legs and stand while we hold you up, your neck strength is great and I know you aren't far from rolling over and sitting up on your own.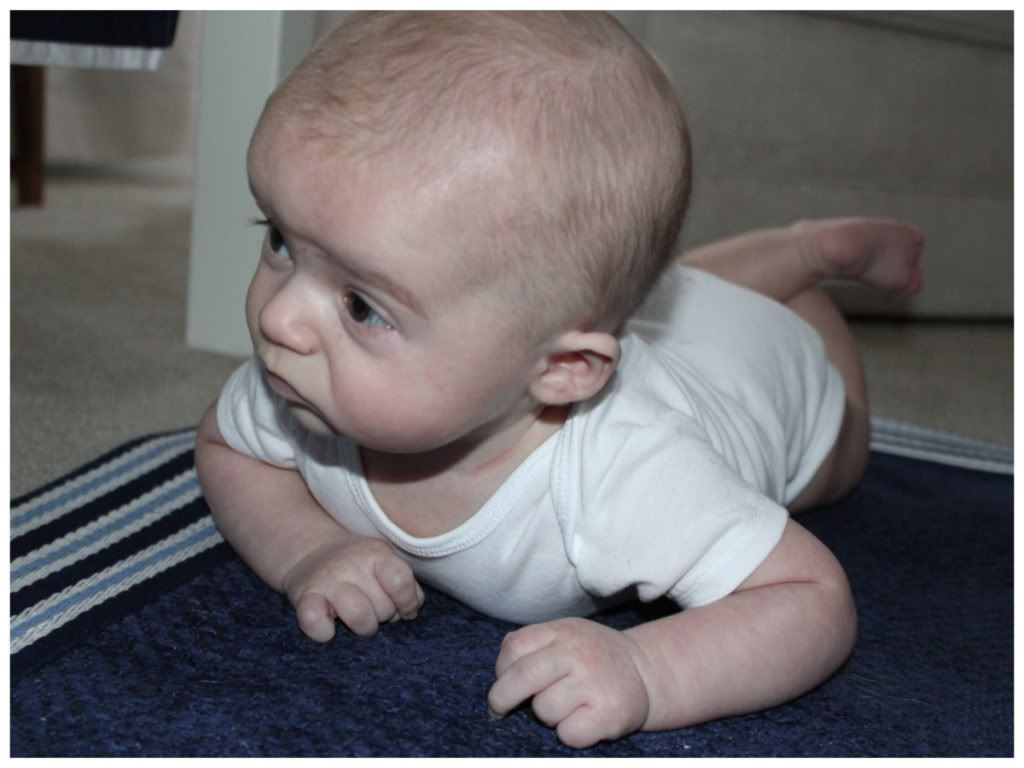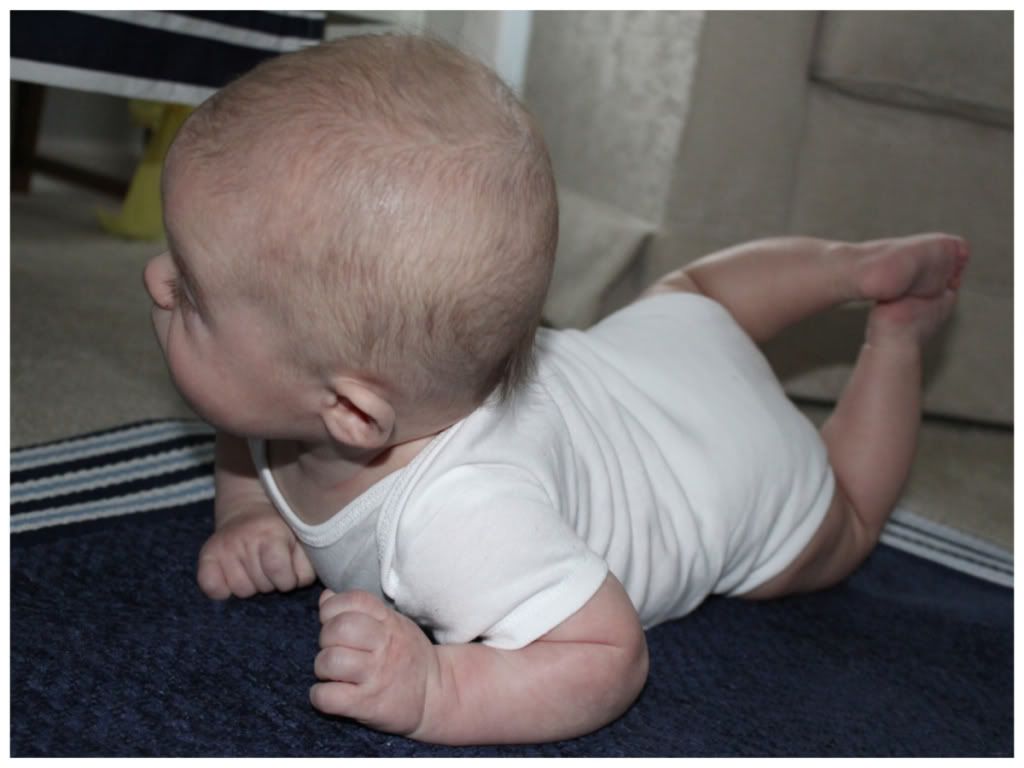 Some development I'm not so fond of is you have learned how to arch your back in effort to fight us on things you don't want to happen like changing your diaper or getting in your carseat. Once your in your fine and all smiles but man it's like we are trying to place on a bed of nails getting you in. Which leads us to your personality....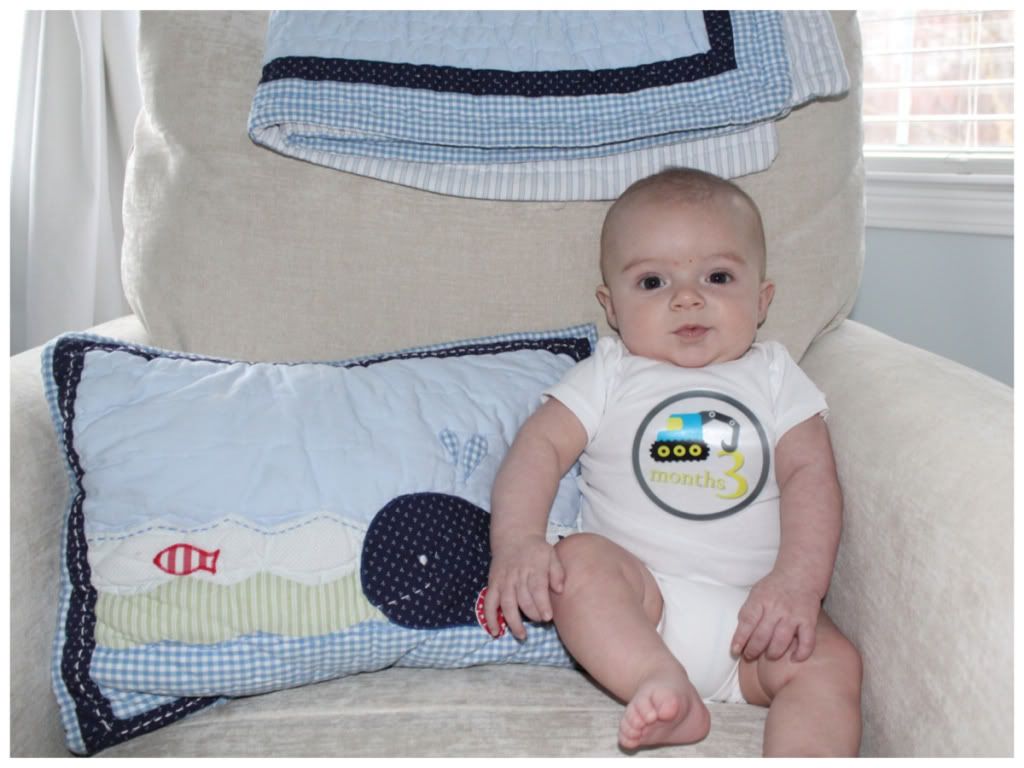 Personality: There are four words that come to mind this month. Monster, spit fire, happy and smart. We call you monster because you are one :) Mommy's little monster though! Here's an example of your monster ways...One night at 8pm you decide your hungry and start screaming like your going to starve to death. So we rush you up to the bath tub to give you a quick bath, then your bottle and off to bed (its our normal every night routine you are used to). You cry as the bath fills, you cry once we place you in there and while daddy washes you and we are rushing rushing to get you out because we know you just want your bottle. Then all of a sudden you give us a gummy grin and giggle like nothing was ever wrong. I thought u were hungry and going to starve to death? Your such a little monster :) Spit fire - your arching of the back thing has us seriously worried about what you have in store for us when your a toddler. We're in trouble :) Happy - You really are a great baby! It's still true that if you are not hungry or tired your happy and content. Being talked to makes you smiles lots of ear to ears. Smart - Every mom thinks their child is far more advanced than other children. I'm no different!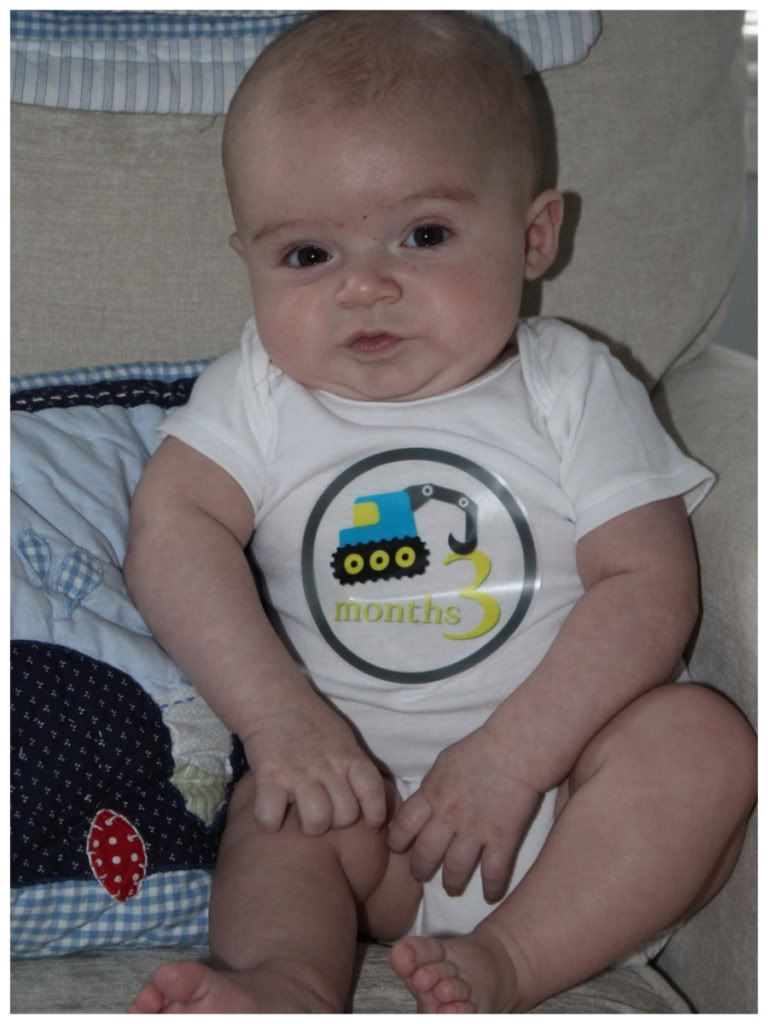 Eating - Your bottles are 5.5 to 6 ounces 7 times a day. 6am ish, 9am ish, 12, 3pm, 6pm, 9pm and 11 oclock dream feed. Although this is starting to change a bit since your sleeping longer from daycare. We moved you up to a faster flow level 2 nipple this month but we give you a slow flow level 1 at your 9pm bedtime bottle to make you work harder and more sleepy. You adjusted nicely to the faster flow taking it all down more quickly however you've started a habit of pulling away from the bottle and then wanting it back right away. Its a very annoying habit but I think you are getting distracted and looking around as you eat. Busy boy you are!
Sleeping - All month long before you started daycare you slept 9pm til 4:30am with a dream feed at 11pm. Since daycare you have slept in til 6am, 6:30am and this morning I had to wake you up at 7:30am! Mama LOVES daycare cause it is wearing your little bum out. :) Overall I feel very blessed for how well your sleeping has progressed. Your still being swaddled at night because you wake yourself up by rubbing your eyes. However, daycare has not been swaddling you for your naps which is a step in the right direction of getting rid of the swaddle all together. Our goal is to have you out of it by 4months.
Likes: To sit up when being held, stare at the TV (and you love cartoons/child development shows better than anything), to be talked to and to talk back, to be swaddled, your bath and your pacifier. AND your most favor tie thing in the world right now is your rain forest bouncer. You coo, kick, stare at the lights in amazement, and just can't get enough of the dang monkey that moves back and forth! We love watching the faces you make as you stare at all the rain forest excitement.
Dislikes: Getting in your carseat, being cold after your bath, having lotion put on you, waiting on your bottle, being on your tummy for too long, when daddy yells at the tv. haha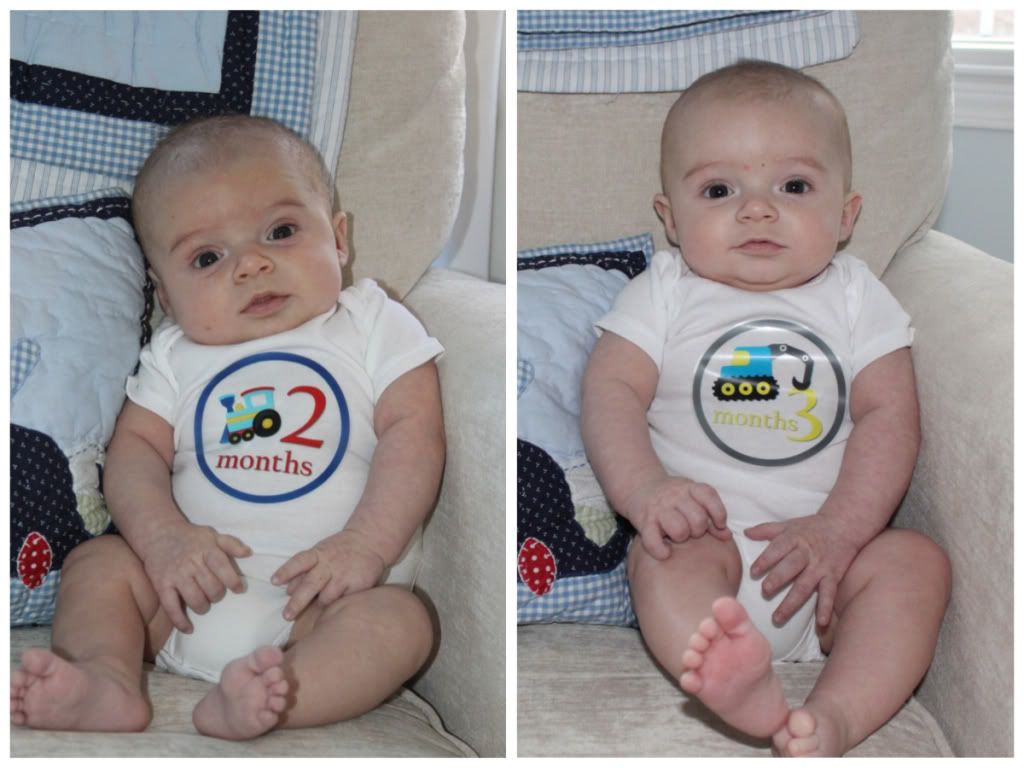 We love you little monster!!