This month marked your first sickness, poor little guy. After 2.5 weeks at daycare you came down with bronchitis. We gave you breathing treatments to open your airways and you were a champ through the whole process. Despite your sickness this month you have become SOOO much fun now. Laughing belly laughs when your tickled or given zerberts. You love mommy's high pitched voice and couldn't be any happier to hang around and play with Dad. We should probably relish every second of this time, huh??
We (mommy) is still getting used to our crazy morning and trying to get us out the door. Pumping, feeding, showering, dressing, packing bags and then rushing off to school and work. It's a 2hr process! But again, your great at being flexible, relaxed and just along for the ride!
Size:
16 pounds (75% tile) 26.5 inches (97% tile). Size 6 or even some 9 months sleepers. 6 to 9 month onesies and pants. You have officially out grown ALL 3 month clothing items. Size 2 diaper.
Development:
You are starting to reach for things more and bring them up to your mouth. We can hold out toys or blankets in front of you and you will grab at them. If you don't have any toys playing with your own hands seems to keep you just as content. You have learned to roll over in your sleep although we haven't seen you do it when your awake yet. I think you get to wiggling and moving when you're sleeping and Opps, you flip yourself over. You seem to like sleeping on your belly though. We introduced you to the bumbo this month and its perfect for allowing you to sit up straight considering your neck strength is great at this point. Only thing is we are already having trouble squeezing you in and out of it…big boy! You still love to stand along with sit on your bum if someone helps you balance. Your tummy time is no big deal now holding your head up super high and working on flipping yourself over. You also move to your side when on your play mat and love to look at yourself in mirrors. (hmmm I wonder who you got that from) Daddy also likes to look at himself in the mirror. Lastly, you're a big talker! Cooing and making noises at us much more often. It's my absolute favorite when you tell me stories!!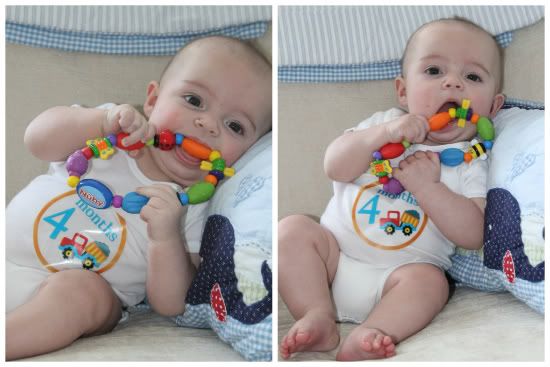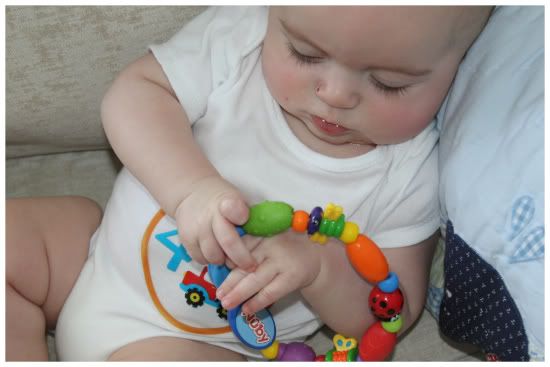 Personality:
You are a very relaxed baby. You fuss a tiny bit if you are tired but we lay you down in your rock n play with a blanket, lovie and paci and your soon fast asleep. You'll fuss if you are hungry but most the time we feed you before you get to that point. You fuss if you're ready to get out of your crib, bouncer, or bumbo. And you fuss BIG if you have gas. But that's it. Your just great at letting us know what you want and if we give it to you your happy  oh boy!  You still arch your back when you're mad most often when we are lotioning you after your bath and getting your PJs on. (I think because your cold and hungry at this point in the night) . You're getting better about getting into your car seat. Your also a sunggle bug. On the weekend Mom and Dad will bring you into bed with us after your 7am bottle and you will snuggle with us happily until 11am! I know CRAZY!! We think you like to sleep in on the weekends just as much as we do. We're a good fit buddy  It's hard not to bring you into our bed more often because I know it would be an easy fix for so many things. You are just so happy when you snuggled up with us. Overall your lots of fun though. You love to play, watch other kids play, and be around people in general. Being on the go and traveling around town with mommy and daddy doesn't bother you one bit.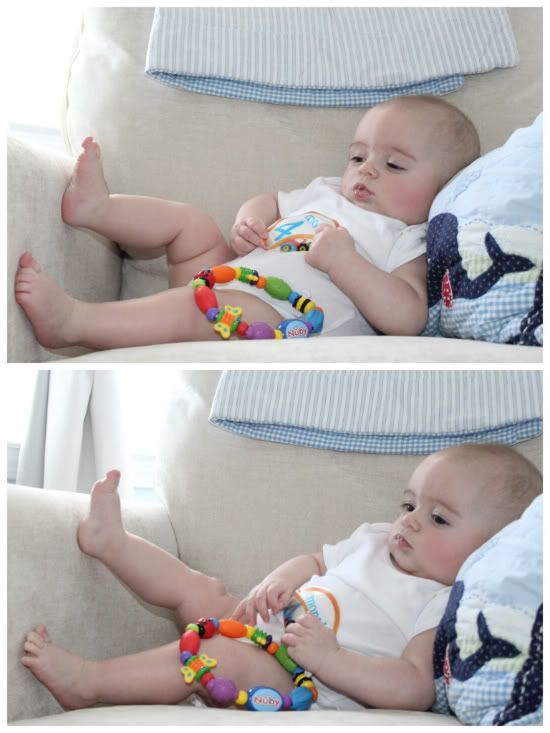 Eating:
Sometimes you take your bottle so easily and other times it's a struggle to get it down because you're WAY too busy to sit there and eat. Your head moves back and forth as you look around the room and you wiggle yourself out of our arms. BUT if we take the bottle out you fuss so we know you DO want it you just want it as you play. Other times your sweet, snuggly and relaxed in our arms as you take it. Right now you get 6 feedings a day all bottles of breastmilk with one nursing session. 7am, 11am, 2pm, 5pm, 8(bed), 11pm (dream feed). Most are around 6 ounces with the exception of your 7am bottle you only drink around 4oz here. When you were sick you weren't as hungry so we had to feed you less ounces more often but you seem to be back to your old routine now. I def think you'll be ready for cereal in the next couple weeks. Yay!
Sleeping:
I think you're a good sleeper. We start bath around 7:15, bottle, then bed by 8pm. You sleep from 8pm until 7am with a dream feed in there at 11pm. We hope to try to eliminate the dream feed once we start you on solid foods. You do wake up fussing a couple times a night for various reasons. Arms get out of swaddle, gas, poopy diaper, cold or hot or you just wake up but no matter the reason all we have to do to get you back to sleep is give you your paci. (unless it's a diaper change) Our biggest struggle and upcoming adventure has been getting you to sleep without your swaddle. We tried it a few weeks ago and you were waking yourself up with your hands in your face about every hour, so we decided to put you back in it. Last week we tried again and you've done great this time. I would say you are swaddle free now!! Now that you have your arms we gave you a lovie to sleep with and I think that has replaced the comfort of the swaddle. You hold tight onto your lovie as you fall asleep and you like the feeling of having something up against your cheeks all snuggly.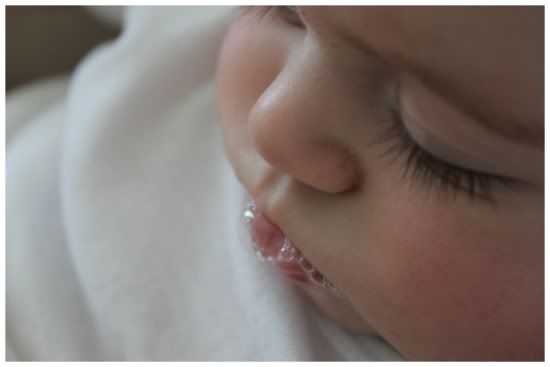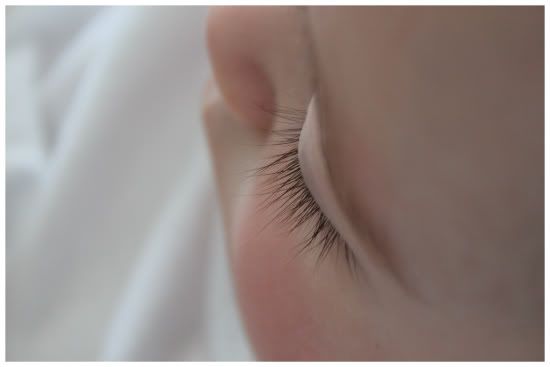 Likes:
Paci, blankets in your hands and lovies snuggled up by your face touching your cheeks. Sucking on your hands and putting toys in your mouth. Really starting to like Sofie and Sofie to go. Playing with mom and dad, singing songs, reading books, listening to chica chica boom boom (you immediately stop fussing when I put this on in the car). Watching tv especially the baby first show with bright colors and animations. Swinging and your jungle bouncer is still your fav place to be (other than in our arms of course). Still love your baths and sleeping in the car too!
Dislikes:
Gas, having lotion put on you, having your nose sucked out. Other than this I REALLY can't think of anything else you don't like. You're a good sweet boy!
It has been miraculous and fun watching you develop and grow from a newborn baby into the infant that you are. I try to cherish the moments you are snuggled in my arms or playing with me because I know one day soon those moments will be far and few between. Keep growing big and strong and Mommy and Daddy look forward to being with you every step of the way!! We love you!! oxox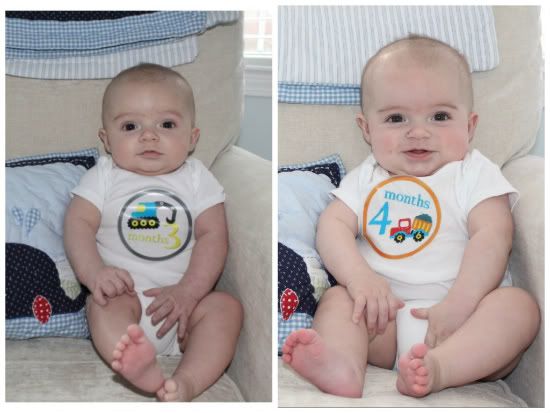 The below little series is cute. Hunter discovered the sticker on his onsie and from that point forward was determined to get it OFF! :) I also think he liked the crinkling sound it made.