in our house! Apparently according to the pictures on my camera we have sandwiches quite often for dinner. Of course we aren't talking no ham and cheese on white bread sandwiches, my husband still has a name to live up to...
Turkey burgers
! This one was not intended to be a double decker. They were just frozen turkey burger patties and when defrosting them Hunter didn't realize there were two per package. After defrosting four on accident he figured, why not... :)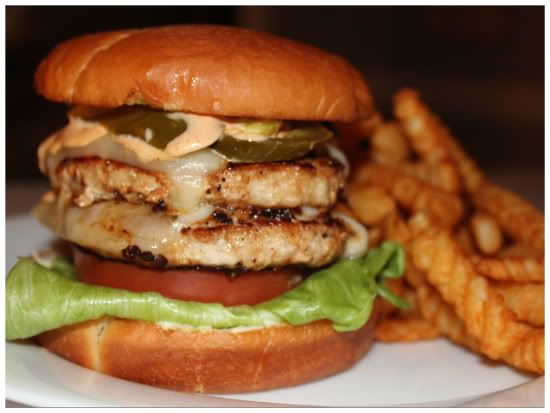 From the looks of it and if I can recall he added as toppings...lettuce, tomato, jalapenos, cheese, onion I'm sure, and some sort of romalade majo based sauce. Oh and he had it on like a hawaiian flavored bun. Sometimes turkey burgers can be bland tasting so it added much welcomed additional flavor!!
Chicken Sandwhich.
I think there was chicken in there :) Grilled chicken breast, bib lettuce, bacon, carmalized onions, pickles, majo and i'm sure whatever else he could fit on there!
Tuna Burgers!
This one we saw Guy Fieri make on his show. We immediatly put it on our radar to make one day soon. It was delish.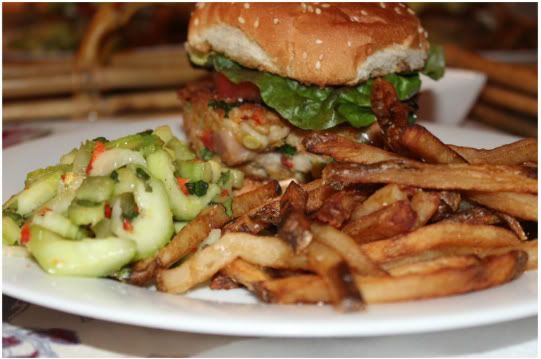 Club Sandwhich
. Hunter never ceases to impress me with his culinary skills. He came home from golf last sunday and literally just said how about a big club sandwhich for dinner. I said okay and 20 minutes later this was put in front of me. It was sooooooo good, we both we're a bit embarassed by the fact that we ate ALL of it!! :)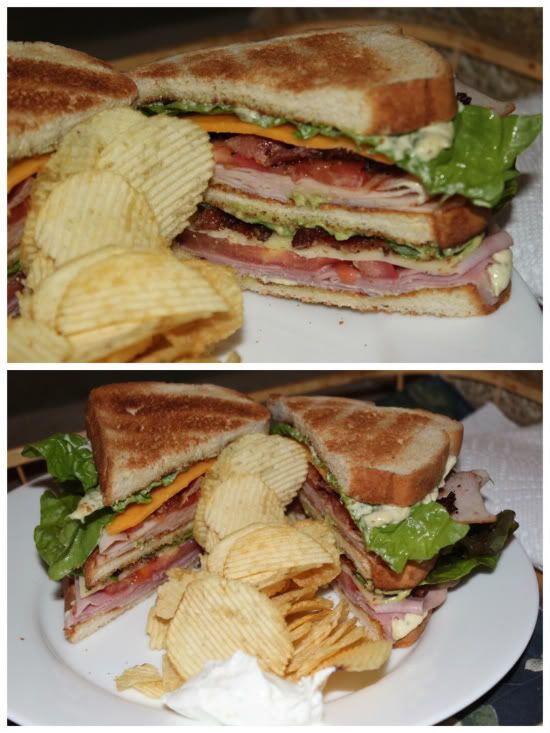 He had an avocado spread on this puppy.
How about a sandwhich for dinner tonight??