I'm sure by now you have noticed the button to the right on my blog that says I'm Decluttering, wanna join? It's part of P
roject Simplify on a blog I follow, Simple Mom
. For each week in the Month of March it gives you an area of your house to declutter.
•Week of March 5: Kids' stuff—toys, clothes, and the like
•Week of March 12: Kitchen and/or pantry
•Week of March 19: Closets, countertops, and drawers (oh my)
•Week of March 26: Choose your own adventure—you pick your most-needed hot spot
This week is kids stuff, perfect timing being that HL5's clothes we're overflowing with newborn and 3 month sizes he no longer fits in. I needed to clean out all the stuff he has outgrown and box it up for the next kid. Check out my before and afters from this past weekend, and declutter with me!
Hunter has this rattan trunk in his room that I had intentions of using as a toy box for him. However, as he started to out grow clothes I just started piling them into his trunk. THIS is what it looked like. ha! I sorted and repackaged into vacuum seal bags and boxed up his old playtex nurser bottles and soothie pacifiers...he uses the advent ones now!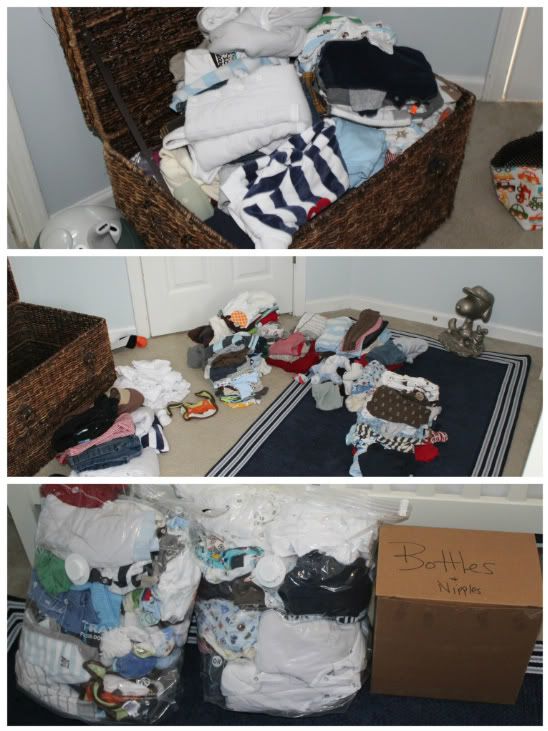 Now where to put these bags and box? Is it wrong that I want to lower his crib already so that I can start storing things under it without people seeing. ha! :) Baby you got your toy box back though!
For anyone out there in the market of a dresser/changing table or even just drawer organizers I highly recommend what we went with. Our
dresser is from Ikea
and I LOVE how big and deep the drawers are. The top drawer dividers are also from
Ikea 7.99 a pack
you can't beat that! They have worked great for keeping his socks, onesies, and even medicines that I keep in the top drawer separated. Everything has its own bin. The second drawer is divided by using
these
. A bit pricey but again well worth it. It took one HUGE deep drawer and allowed me to section it off into 5 different rows. I did PJs, Larger size PJS, Pants, shorts, sweatshirts/sweaters. The bottom drawer is big enough to fit ALL his extra sheets, mattress pads, blankets, swaddles, towels etc. His own little linen drawer :)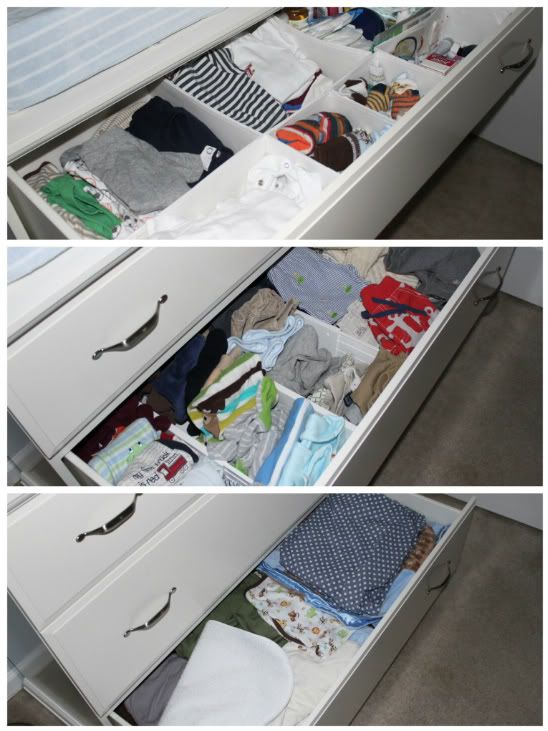 And lastly, just a pic of two of my favorite things in Hunters room. His book shelf and this frame he got from good friends of ours. The saying worked perfectly for one of his newborn pics :)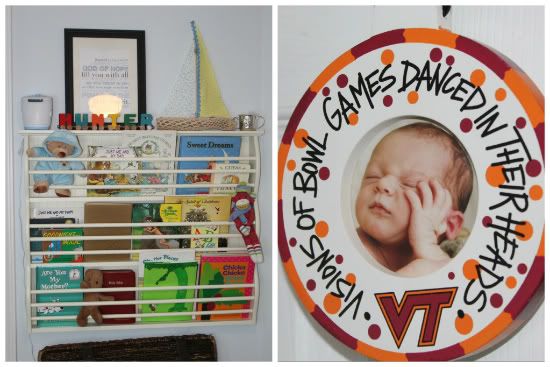 Next week is Kitchen/Pantry another area we are busting at the seems in. And again good timing since HL5 is about to start food so I want to give him a section in our pantry for baby food. :)