It's been a while since I've blogged about Chef Hunter...probably since it's been a while since we've cooked a good meal together. Summer time is busy with outdoor parties, softball games, and lots of eating out apparently :)
Anyways, friday was different...we stayed in and cooked Caprese Beef Tenderloin! Another recipe from our favorite recipe source
Cuisine Recipes
.
Caprese Beef Tenderloin

Because this dish cooks so quickly, have all of your ingredients prepared before you begin cooking.
Makes: 2 servings
Total time: 25 minutes
2 beef tenderloin steaks (4–5 oz. each, 1-inch thick)
(we never follow a recipe exactly :))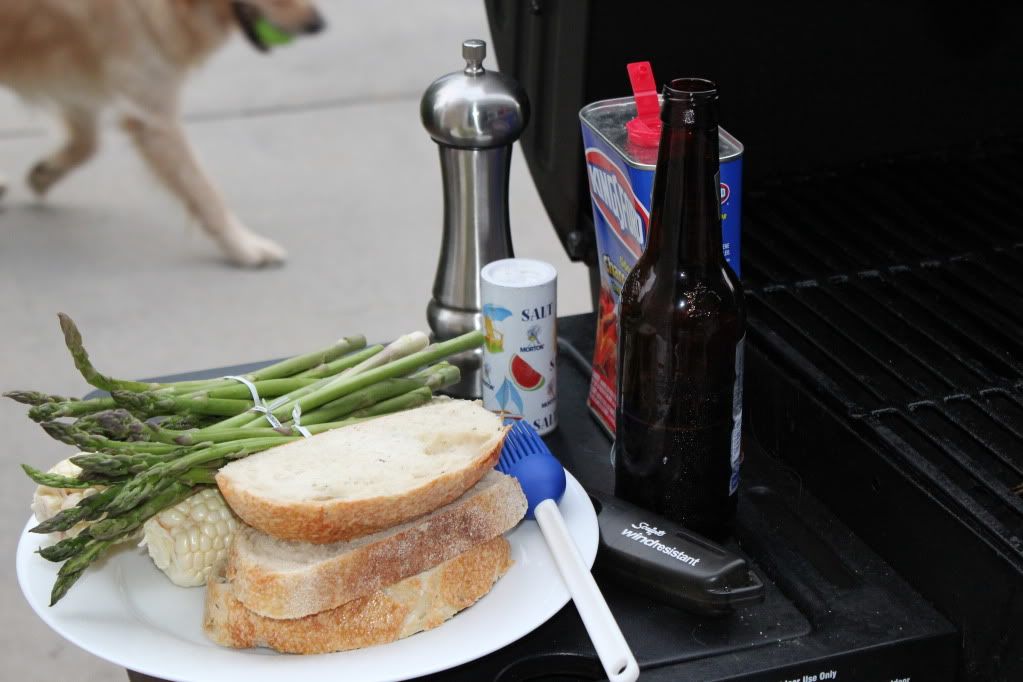 Salt and black pepper
2 slices baguette (1-inch thick)
(and a grilling beer :))
Olive oil
2 Tbsp. olive oil, divided
1 tsp. minced garlic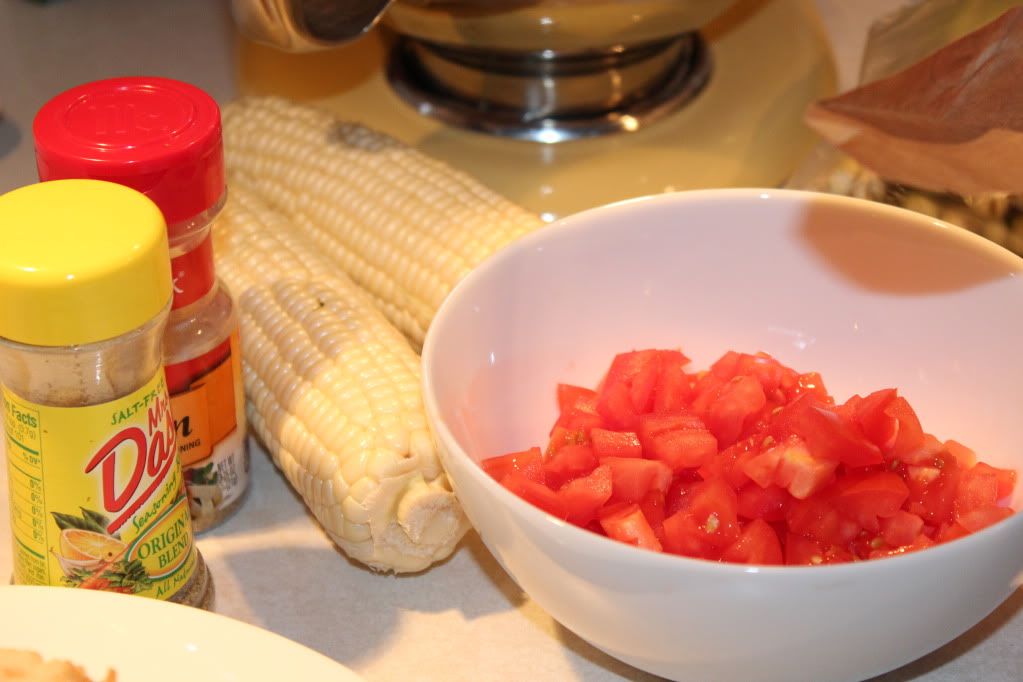 1 cup seeded, diced Roma tomatoes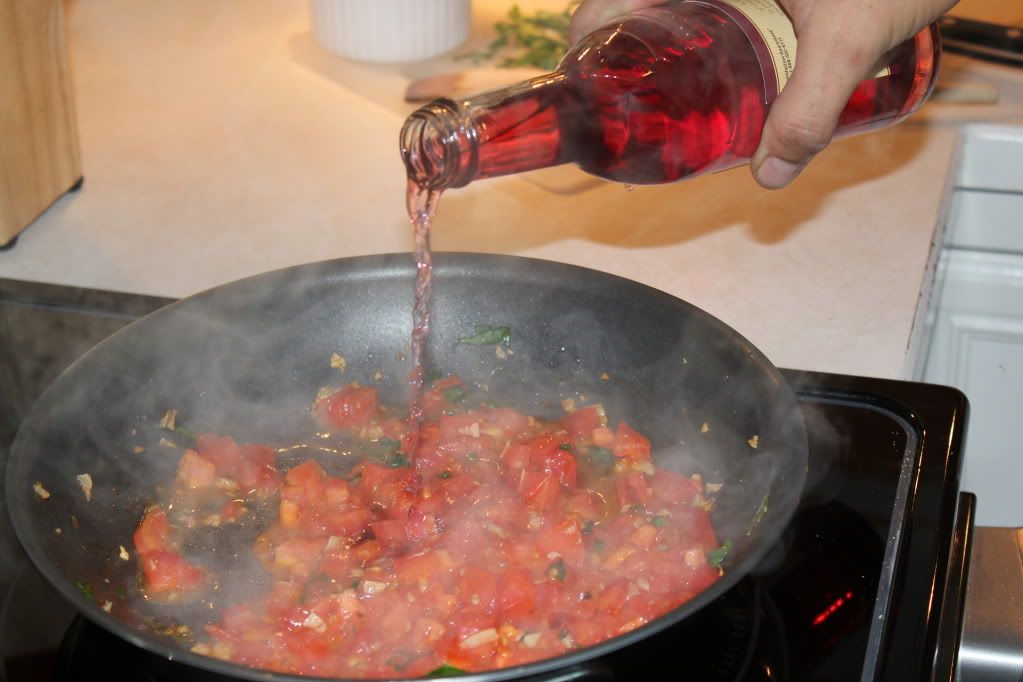 1 Tbsp. red wine vinegar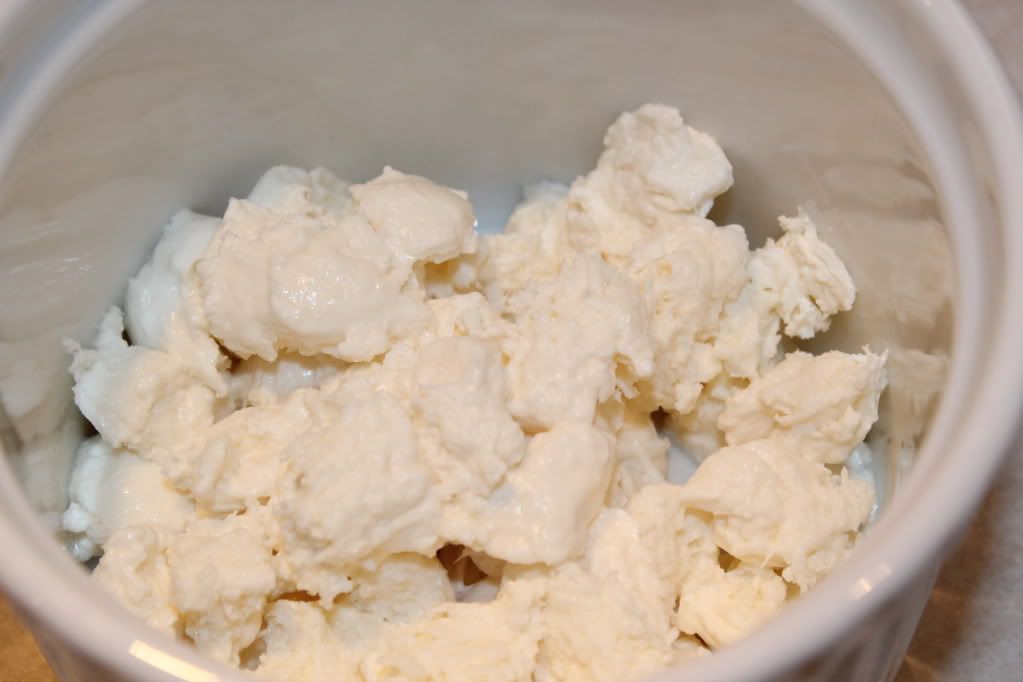 2 Tbsp. each diced fresh mozzarella
(I swear that's mozzarella)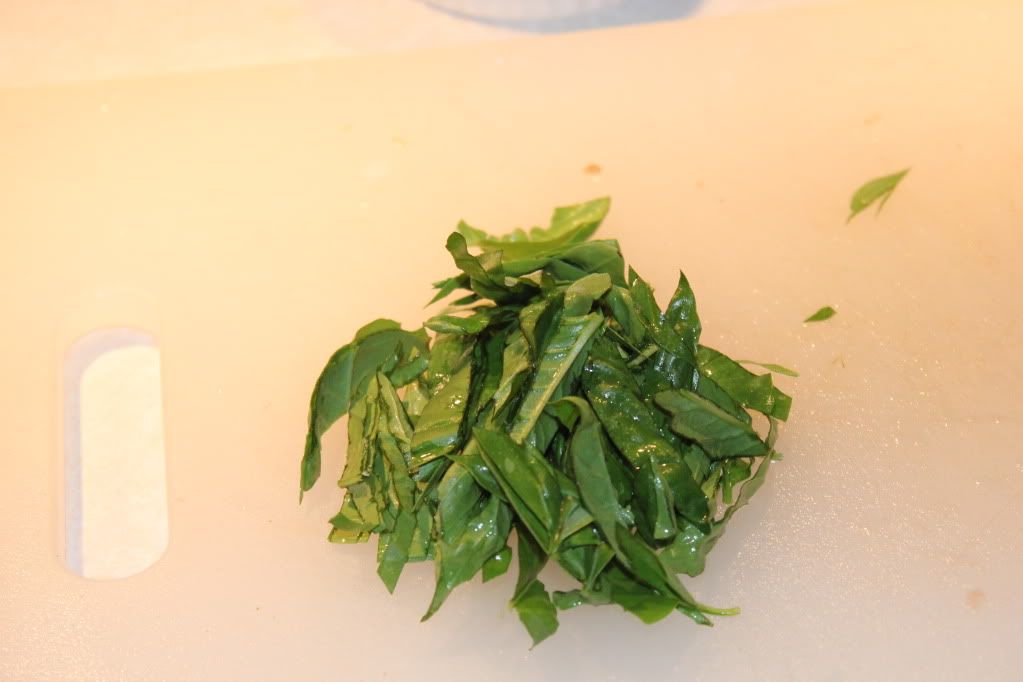 and minced fresh basil
(Hunter likes his basil not so minced :))

Nutrition InformationPer serving: 467 cal; 22g total fat (5g sat); 72mg chol; 456mg sodium; 36g total carbs; 3g fiber; 33g protein
Season steaks with salt and pepper; brush bread with oil.
***You can do it all in a skillet like the recipe calls for below or we just grilled everything outside. At the end while the steaks where resting Hunter mixed up in a skillet the oil, garlic, tomatoes, vinegar mixture to pour on top of the steaks once plated.***

Heat 1 Tbsp. oil in a nonstick skillet over medium-high until shimmering. Add steaks and bread; cook 3 minutes. Turn steaks and bread. Cook steaks 2 minutes more and bread until toasted on both sides. Transfer bread to 2 serving plates; place steaks on top of bread and allow steaks to rest, 5 minutes.
Add remaining 1 Tbsp. oil to skillet and heat over medium-high. Stir in garlic and cook 30 seconds. Stir in tomatoes; cook until softened, 2–3 minutes. Stir in vinegar and cook, 1 minute more.
And the Master Chef at work....as you can see we served it with asparagus and corn on the cob.
The asparagus was tied together with twist ties for easier grilling.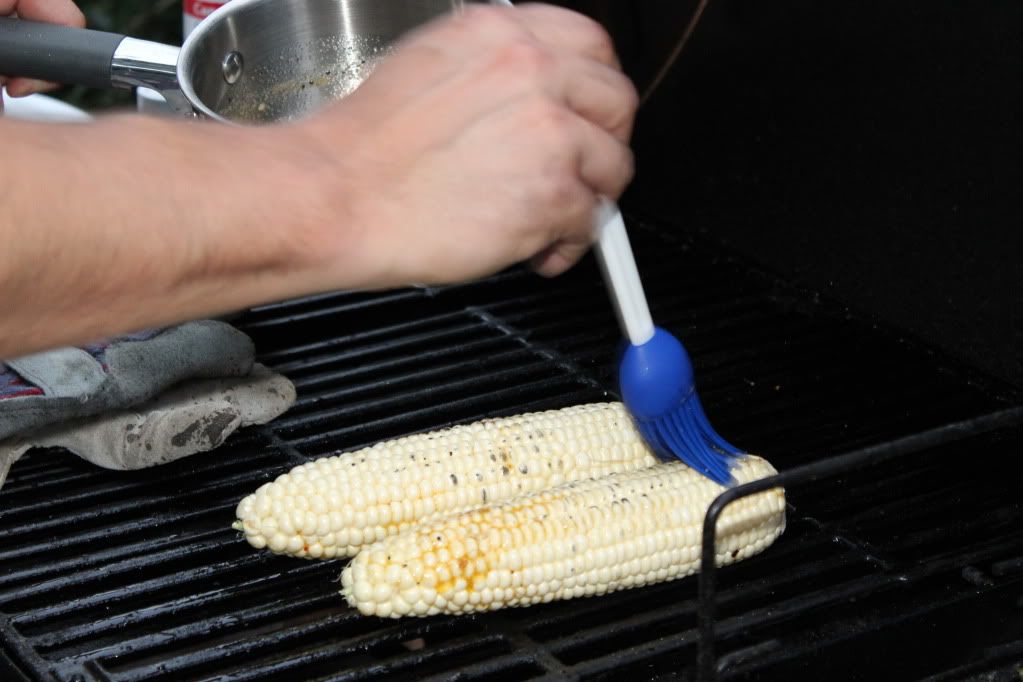 He brushed everything (corn, aspargus, & bread) with oil/butter and seasoned them before grilling.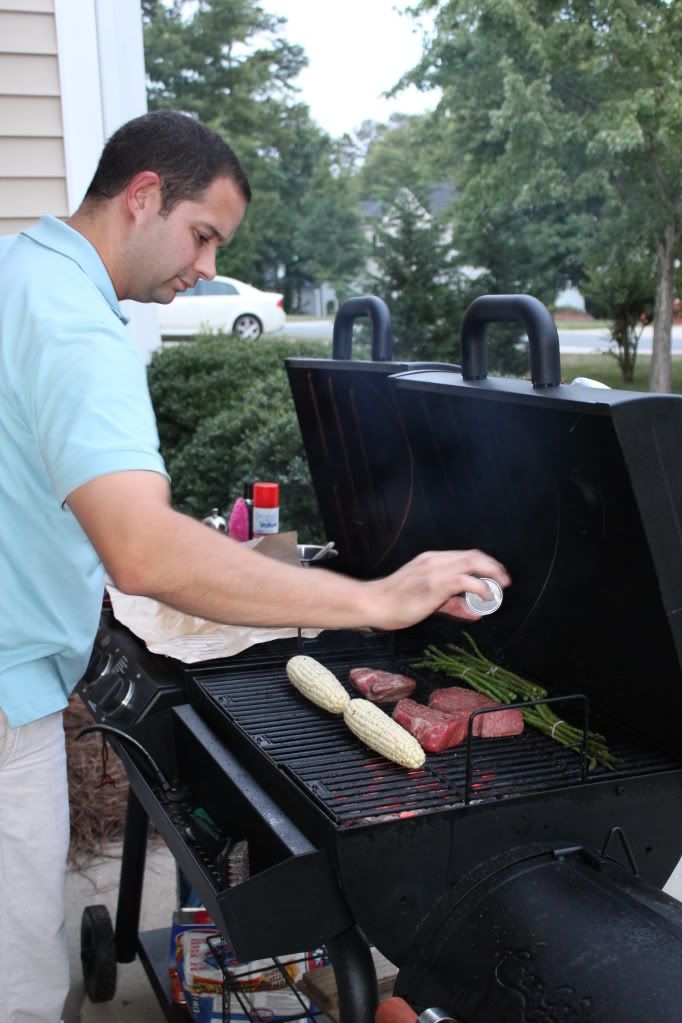 Such concentration :)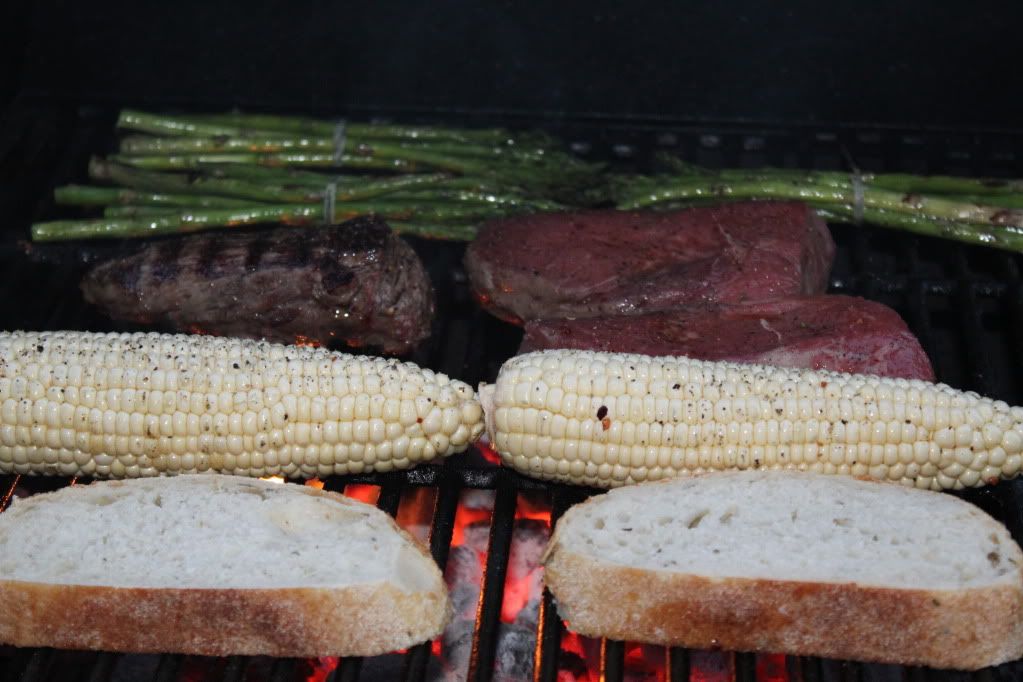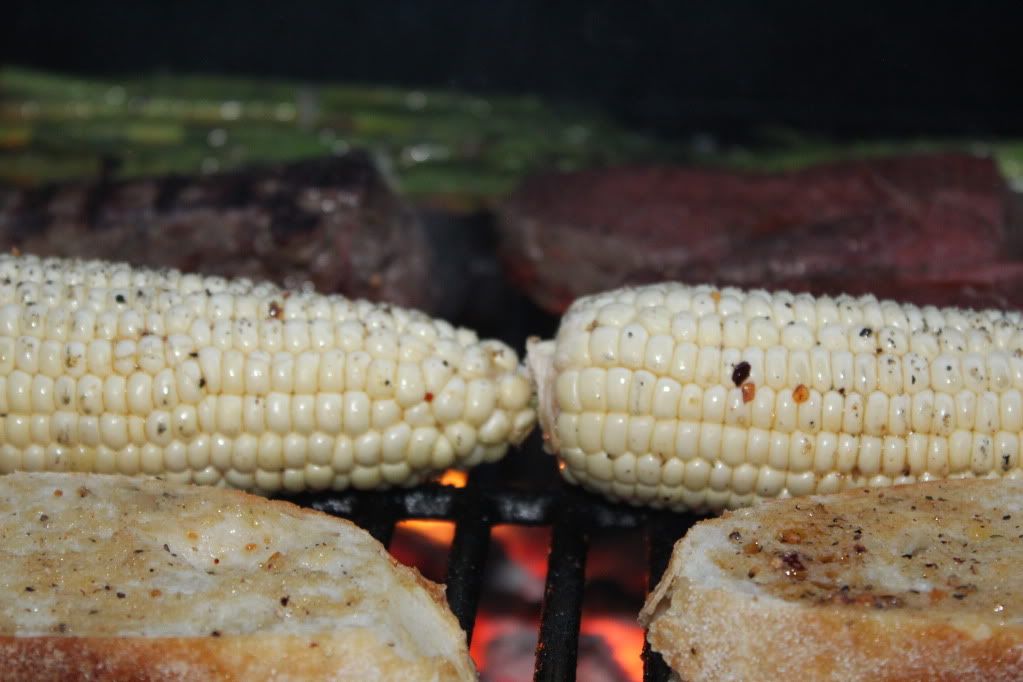 It was a gorgeous red sky that night!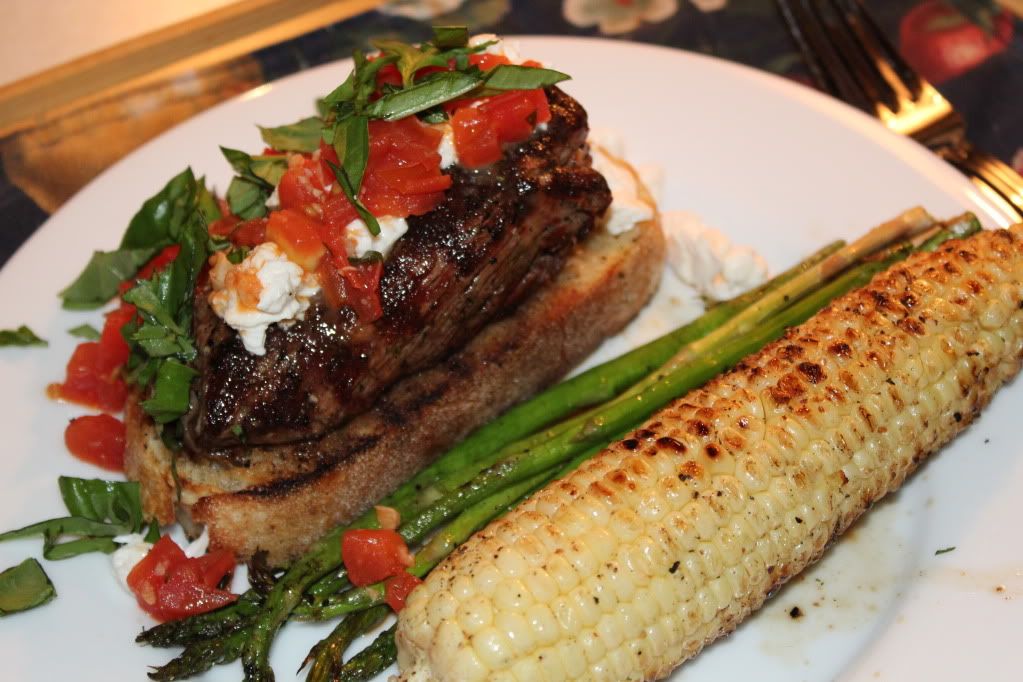 And Voila!