This week marks the beginning of my 3rd Trimester! yay!
Size of baby:
I think I got ahead of myself last week. 27 weeks marks size of cucumber and this week we are making our way towards the size a head of cauliflower. Hunter is probably somewhere between 15.5 to 16 inches long (head to feet) and between 2 and 2.5 pounds.
Weight gain:
Who knows! I haven't stepped on my scale at home. I have a Dr's appt next week August 9th, I'll let you all know then.
Maternity clothes:
Yip! Mostly all tops, skirts, shorts, and pants. Still squeezing into a few pairs of my regular pants supported by a belly band.
Gender:
It's a boy. Hunter Lee Lunsford V.
Movement:
Every week he must be growing and taking up more space in my belly because the movements are getting stronger and more distinct. I feel two types of movements. The jabs/kicks and then the waves of movement across my belly. Both have completely different feelings I'm not good a describing. He's pretty regular though morning, and night for sure while I'm laying down and then during the day if I'm sitting at my desk. During the day on the weekends I don't feel him too much since I'm busy moving around.
Sleep:
Sleeping good! Up a couple times to pee but it's such the norm now that I don't even feel like it bothers me.
What I miss:
Don't miss anything this week. Not even my prepregnancy body. Liking being pregnant this week and trying to enjoy the bump!
Best Moment this week:
Oooo might be his movements. They've just been so strong lately it's making him feel more and more real to me. Hunter put together the dresser for the nursery last night which was fun, it's great seeing the nursery come together.
Looking forward to:
I can't stop thinking about fall so that's number one!!! The cool crisp fall air, pumpkin spice latte, VT football tailgates and knowing we are just a few short weeks away from meeting our little one. I can't WAIT for fall!! Also really looking forward to a few beach trips we have coming up need to enjoy the last bit of summer while its here, and my shower weekend where we will get to some some quality time with family we don't get to see as often as we'd like!
Cravings:
Def want my Azteca mexican fix this week. Also a tuna melt on a bagel. Oh...maybe I'll get that today for lunch! Don't judge...one little tuna sand which won't hurt me :)
Symptoms:
Here goes...these are the ones from the book that I have experienced.
- Occasional dizziness or faintness - experienced this once last week.
- Nasal congestion - still congested in the morning.
- Bleeding gums - my gums bleed when I brush and floss and they never used to.
- Skin, hair, nail changes - my skin has been doing well I do have the linea nigra line down my belly. My nails have been growing like weeds!
- Abdominal achiness in the front and along the sides more so.
- Increased appetite. Yep haven't slowed down in that department yet.
- Back pain - pretty minimal though...gets sore at the end of the day from sitting in my chair at work.
- On a happier note my bowels seem to be back to normal ( I know you all where worried about that!
- Leg cramps. Oh the leg cramps are the worst. I get achiness/pain in from my knee down but I also woke up screaming yesterday morning with the WORST charlie horse. I threw my leg on Hunter and told him to rub. He rub it out for me and couldn't believe how bad it was! My calf was sore the whole rest of the day.
- Protruding Naval - CHECK!
- Shortness of breath - I walked up the stairs the other day while on the phone with my brother. He asked if I was in labor...hahaha, nope just walked up the stairs and a little out of breath from it. :)
- No stretch marks yet.
Pictures: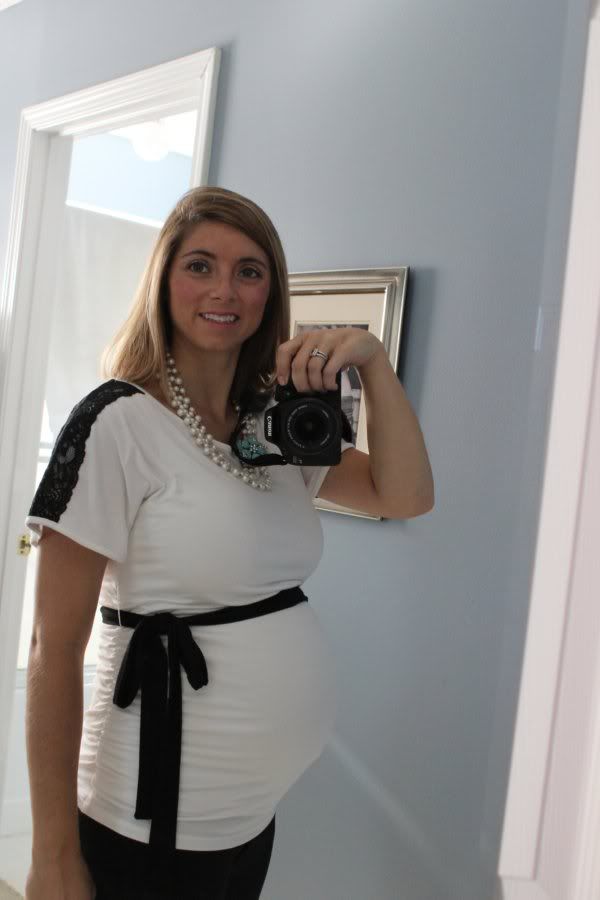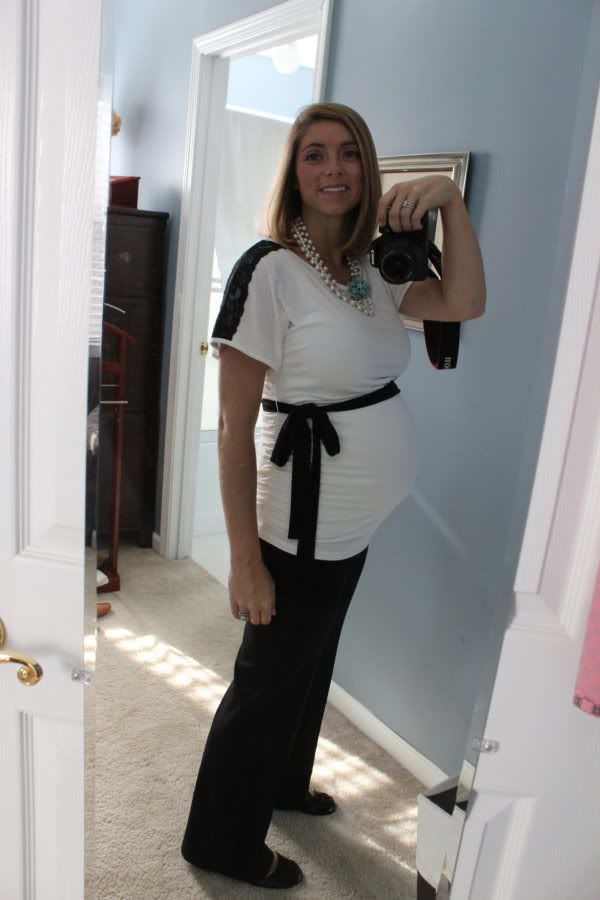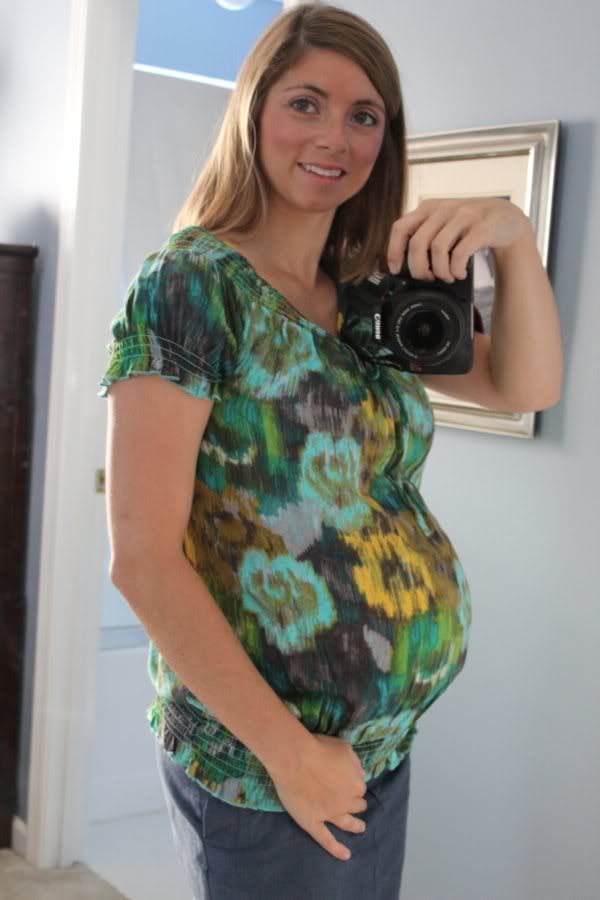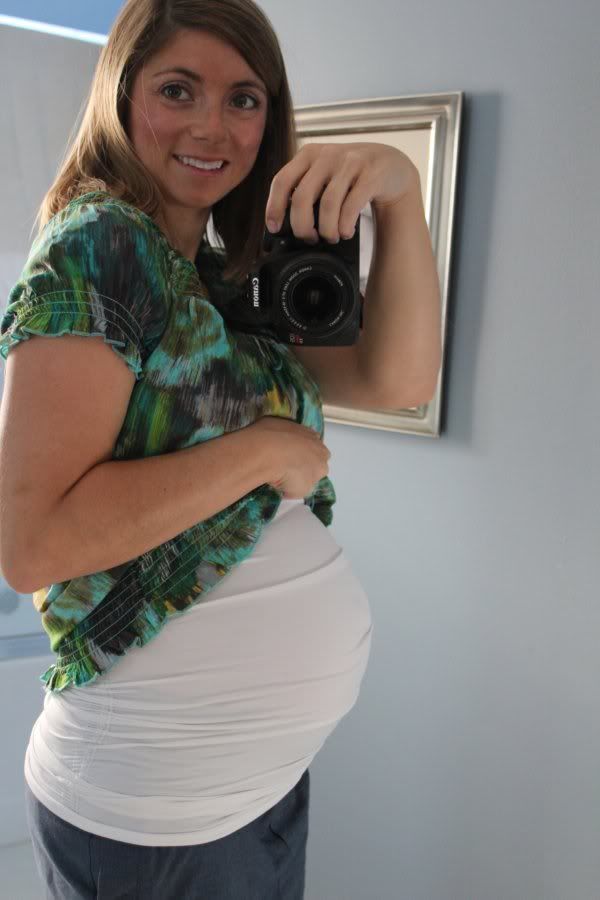 Dresser...we didn't up getting the Hemnes dresser from Ikea. While we were there we saw this one, it was cheaper, and I liked it just as much. I think its called Berkley.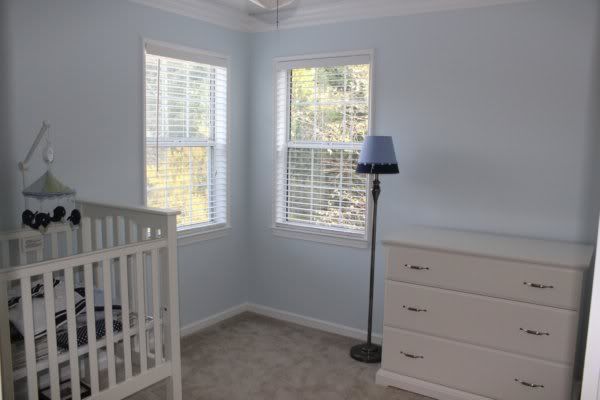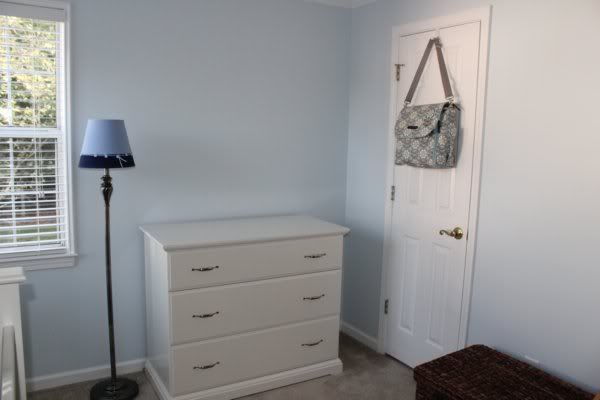 VIDEO: AND you all are in for a treat today!!!
Little Hunter performed for you all this morning! You can see general swiveling atound in the beginning with a few good jabs at the end. Enjoy!! :)