We had a 36 week Dr appt yesterday including ultrasounds so this weeks survey is filled with lots of fun Hunter V facts! :)
Size of baby:
A large Cantalope. We were told he weighs 6 pounds 8oz right now and if he continues at this growth rate he should weigh around 7 pounds 12oz at birth.
Weight gain:
162. We're you ready for that, I sure wasn't when I saw it yesterday. oh well, whatcha gonna do. I'm healthy, babies healthy and we only have 4 more weeks. 32 pounds total weight gain so far.
Maternity clothes:
As far as work goes I'm down to two dresses, two pairs of pants, 1 pair of jeans, and 2 long sleeve shirts that fit. Laundry is done often in our house now. I have lots of sleeveless shirts from the summer that I've been wearing under cardigans or jackets. On the weekends I don't really care...leggings, pjs, hunter's clothes, sweatpants. Whateve! :)
Gender:
It's a boy! Hunter Lee Lunsford V
Movement:
Same, good movement. After the ultrasound I understand why I feel all the pokes over on my right side. He has a knee, foot, and hands all over on that side. I know I don't quite understand how either... Also, his butt is up higher than I thought, she said its way up under my chest, and what I'm feeling that's hard around my belly button is his back. He's probably arching his back.
Sleep:
I've slept better this week than last. I'm waking alot to switch left side to right because I wake up stiff from laying on one side but ultimately I'm sleeping.
What I miss:
Excited to have my body back but I'm feeling better this week and trying to enjoy the last few weeks of his little kicks inside me.
Best Moment this week:
of course seeing his sweet face on the ultrasound screen. I feel like the kicks and movements that I feel should make this real to me but actually seeing his face and what he looks like, brought it to a whole new level.
Looking forward to:
Our glider!! I have a tracking number and it's suppose to be in a week from today october 12. This means we the weekend after it's in we can finish the nursery. Hang stuff on the walls, set up monitors, install carseats, pack a hospital bag. It's time!
Cravings:
None, I'm still eating the same amount but actually find myself not really in the mood for anything at lunch or dinner. I sorta just pick something and it ends up tasting good.
Symptoms:
Uncomfortableness. Is that a word? That pretty much describes everthing though. Sciatica has kept in check however I felt a differernt nerve pain in my inner right thigh sunday night. It only last a few hours, no compliants there. Little bit of swelling, although I'm thinking that could just be me getting fat too. ha! Defintely tire more easily when cleaning the house, walking etc. I think that's it though, could be lots worse. I was checked yesterday and my cervix is still as tight as can be. No really, that's how the dr. worded it to me. Nice! Thanks Doc.
Pictures
.....eeeeeeeeeeeekk Sweet baby boy!!! :) The cord was in front of his face but she still mangaged to get a pretty good picture. Also it was confirmed that he has hair!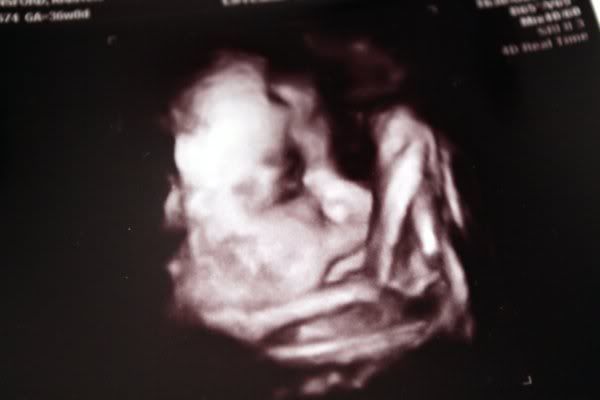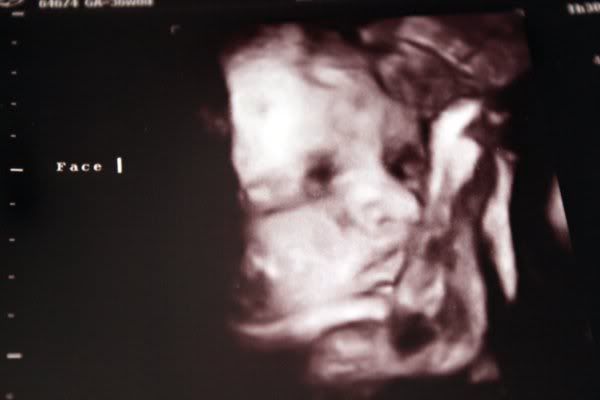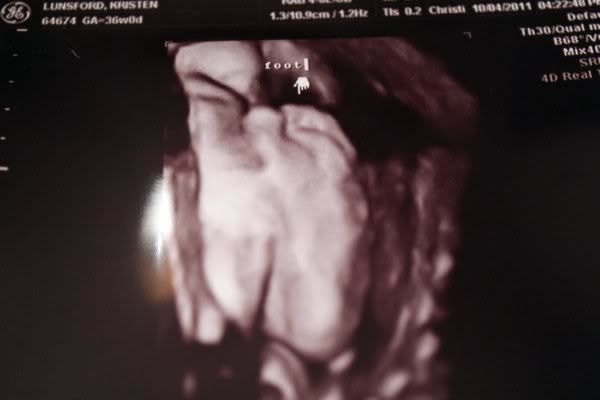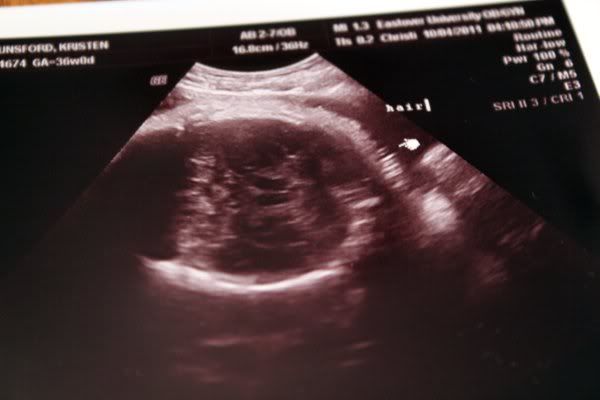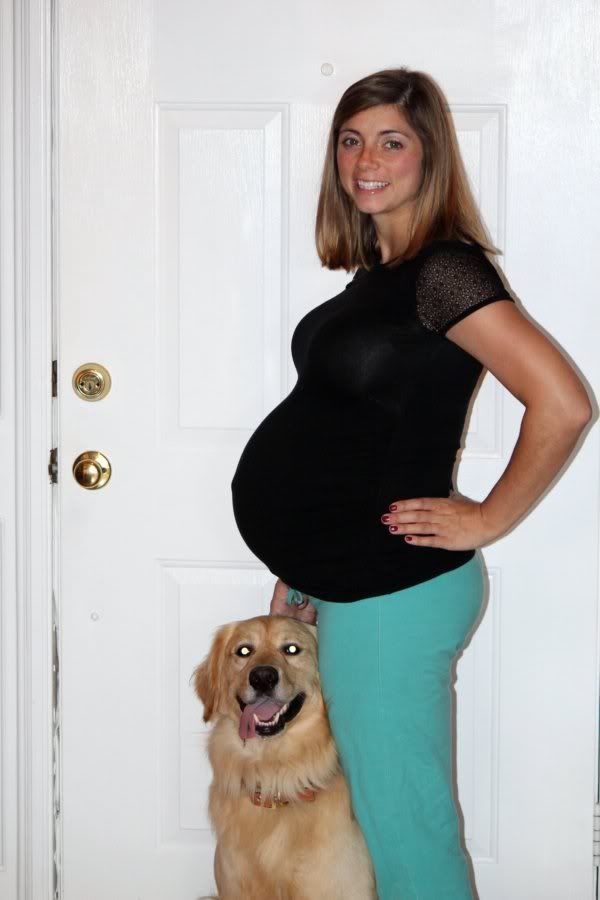 Can you believe that little guy above is in this belly? I can't! Jakey is excited about his new little brother too! :)