Size:
I'm, I mean he's still the size of a watermelon :)
Weight Gain:
165.5. The nurse and her darn .5's. I could just snip it off the end but this is honesty at it's finest. She told me yesterday 165.5. 35.5 pounds. Thank GOSH there's only 2 weeks left of weight gain this number is getting scary!
Maternity Clothes:
I had all summer clothes and now that the weather is cooler I have nada. I hated to do it but Hunter and I ran out to Kohls on Saturday so I could buy a long sleeve maternity shirt that fit. 20 bucks well spent considering I've already worn the shirt twice since Saturday. ha! wear, repeat, wear, repeat that's my maternity clothes modo.
Gender:
It's a boy. Hunter Lee Lunsford V Little tidbit...If Hunter V is born on October 21st he will be the third Hunter in a row to be born on the 21st of the month. Hunter III is August 21st, Hunter IV is March 21st, Hunter V October 21st??? Also, the "Hunters" are HUGE CARDINALS baseball fans. So with Hunter V being born AND the Cardinals entering the world serious life is GREAT in Hunter Lee Lunsford land. :)
Movement:
The past two days I have finally felt decreased movement. I still feel him move but they are back to jabs and punches instead of the full belly waves. Maybe he's finally settling down for birth and running out of room in there?
Sleep:
What do myself and a newborn baby have in common? It's a big deal when we both sleep through the night :) A few nights last week I'll wake up for the first time and its 6am I can't believe it! Other nights I'm up 4/5 times. Who knows, I'm sleeping though that's all that matters. On another sleeping note, Hunter V's first kicks in the morning are my favorite because I'm SOOO paranoid that I'm crushing him in my sleep or accidentally sleeping on my back to much. So when I wake up and feel him move I'm sooooooooo relieved!
What I miss:
Standing close to counters. You don't realize til you have a big belly how far away from sinks you have to stand when your washing dishes or your hands. It's odd. What else do I miss? Ok, the occasional glass of wine would be nice at this point. And def looking forward to sleeping on my stomach again.
Best Moment this week:
Seeing the nursery come together. The chair came in on Monday finally and getting a few things hung on the walls. We love it in there! The room puts off that prefect nursery feeling of coziness we had hoped for. :)
Here it is!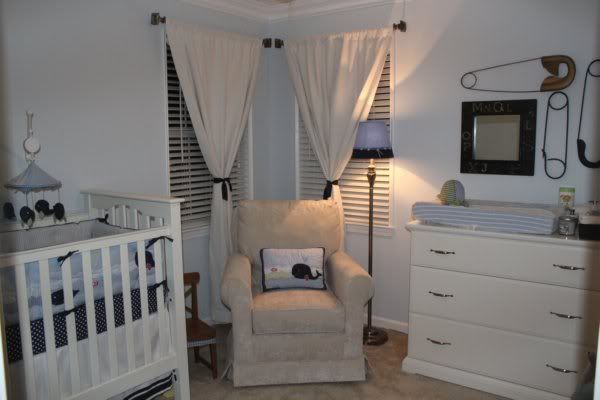 Looking forward to:
Being in labor...ha! kinda serious though.... But in order to meet HLV!
Cravings:
Anything sweet and chocolate. Not sure if its the halloween candy that I can't get away from or what but I LOVE sweets these days. Not good.
Symptoms:
Pressure down there, lots o pelvic pressure. Frequent urination, slight headaches, leg achenes, nasal congestion, tiredness, and this might be TMI for some but this is my blog and my record keeper so I'm writing it...presence of colostrum. check. No stretch marks, and believe it or not have not once felt heart burn this whole pregnancy either. Overall still feeling very blessed with an easy pregnancy...especially considering the evil sciatica never came back!!!
Other notables:

I had yesterday off work! I decided 5 day weeks were too tiring at this point so I'm taking random days in the middle of the week. It's nice to have a day to keep up on laundry, keep the house clean, and keep well rested. Plus, I schedule my dr's appointments for those days off as well.
Speaking of appt an update from mine yesterday. So where we stood was my platelets where at 98,000 and the Dr's feared they needed to be at 100,000 in order for me to receive an epidural. I also have what are called GIANT platelets so they though perhaps they weren't being counted properly by the machines and ordered a manual count of my platelets along with a platelet function test. The manual count came back at 109,000 and the function test came back normal. yay! An epidural should be no problem if I feel the need to have one. However the numbers till scare the Dr's so as precaution they will most likely have my platelet type readily available during my labor and delivery in case I was to need a platelet transfusion. Better safe than sorry in their eyes I guess. Also, it was finally cleared up to me that my low B12 and hemoglobin levels (which are great now that I've been getting the weekly B12 shots) have NOTHING to do with my low platelet count. They are two totally separate issues. All said and done after the baby I'm going to go see a hematologists and get a full work up on all this blood nonsense :) Most importantly though, I feel like this is all just number issues and ultimately I'm healthy and baby's healthy!
Went for a prenatal massage yesterday and my massage man (who has 4 boys and guessed I was having a boy) massaged the pressure points in my feet to induce labor. Afterward he predicted baby to arrive Oct 22nd or 23rd. We'll see if he's right!
And had my first meltdown last night. I think the nerves of labor, fact that I'm going to be a mother, and tiredness of pregnancy all got the best of me. Hunter was sweet and it helped so much to hear him say and we are all in this together and will all be just fine because sometimes being that I'm the one carrying this child I feel so alone in it all! So emotional...I can feel the hormones coming on stronger...labors GOT to be close right? Man, and I know they are bad after the baby comes to, I'm trying not to think about that part...deep breaths one thing at a time.
Pictures: Sunday, Monday, and Tuesday of this week....
Don't judge the no makeup sunday look :)
who doesn't love a good outie shot!?