6 weeks left, I can't hardly believe it! In some ways I feel like these next six weeks are going to fly by and in other ways feel as if they will drag. Either way I know I'm already counting down the days of work I have left. Depending on when little man decides to make his appearance we are looking around 25 days left at the 9-5er! whoot whoot!
Size of Baby:
A pineapple. Yum...I had pineapple yogurt this week :) Hunter V is anywhere from 19 to 22 inches long and around 4.9 pounds!!
Weight Gain:
I LOST two pounds!! I know I'm not suppose to be excited about this but I am, mainly because I can see by my belly growth that Hunter V is still growing big and strong. I was 158 at my 32 week appointment and was 156 at my 34 week...marking total weight gain so far at 26 pounds.
Maternity Clothes:
ARE TIGHT! I've been getting creative...dresses have become shirts, and I live for accessories to distract from my boring clothes. Necklaces, scarves, cute shoes. what eve. With the weather cooling off I'm looking forward to sporting some comfy leggings these next 6 weeks.
Gender:
It's a boy! Hunter Lee Lunsford V
Movement:
Strong whole body movements. Baby's whole body...not mine :) It's really, truly amazing. I saw a hand/foot/elbow (have no idea what it was) poke out of my stomach so far last night my jaw dropped. The major movements like that are at night right when I get into bed, its like he's stretching out and getting relaxed himself after a long day. I'm going to start to keep our little video camera next to my bed and try to catch some of these on tape. A lot of time Hunter IV misses them too because I go to bed earlier than him so he's still downstairs watching tv.
Sleep:
Sleeping good, Hunter's movements are stronger so they are waking me up a bit more but feel like I'd be up anyways to pee at that time. Just thankful I have no trouble falling asleep. I know with all of the excitement and things going on lots of women at this time can't keep their mind from running mine seems to be shutting off pretty nicely.
What I miss:
Pants that button. I feel like for 8 months now I've worn pants with elastic waist or my pants unbutton with a belly band. I long for the day to slip on a pair of jeans and button them like normal :)
Best Moment this week:
Probably our Dr's appt. Always nice to hear his heartbeat, and we got two pieces of exciting news. Dr confirmed he was head down, YAY! But also said to be sure he would do an ultrasound for us at 36 weeks! We get to see our little man again soon :) I can't WAIT to see his little face and body parts up on that screen, so exciting!
Looking forward to:
Our baby Moon! 4 days of total relaxation in our future.
Cravings:
Newks makes this toasted chicken salad sand which that is SUPER yummy....think I'll have that today for lunch. Still loving the banana pudding ice cream at night and in the morning I really do sorta crave yogurt, might be more out of habit. Coffee is starting to soot me again as well, that might be the cooler weather too.
Symptoms:
We have a new one this week. Major PAIN in my left butt cheek! I don't know if I pulled a muscle cleaning on Sunday or if its
pregnancy sciatica
but I can barely walk. I walk like an 80 year old trying not to bear weight on my left leg because every time I do it shoots pain in my butt and down my leg. Oh it hurts so bad. It started on Monday and has gradually gotten worse, today being the worst day yet. I just took Tylenol for the first time this morning and hoping that helps. Tonight I'll try some heat/ice and see what that does. Ultimately, I'm hoping this is just temporary and after a few days of rest this weekend it will feel better because I certainly can't live like this for the next 6 weeks. Scary. Other than my butt pain I'm feeling pretty good. Little tired as to be expected but no swelling yet which is nice. Hunter said last night to me he couldn't believe how all belly I was. He was certain I was going to be one of those pregnant women that carried baby EVERYWHERE and I agree with him. I was certain at this stage my wedding rings wouldn't fit and they do still! Lastly, some shortness of breath, and belly achenes both from him growing and his strong movements are making the list.
Other notables:
my shot hurt this week. ouch :( We have alittle Tuesday night routine now, I get my shot and then Hunter takes a bump pic. With the camera being out I snapped this of Hunter before he poked me....doesn't he look just a TAD bit too Excited to stick me with that thing? BTW the B12 is red, that's not blood :)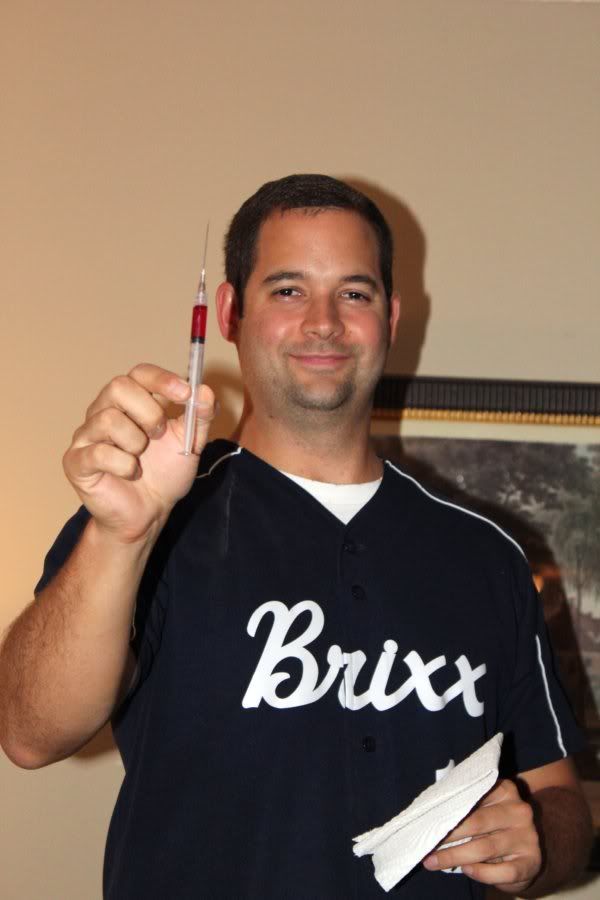 Oh and he had just gotten back from his softball game...he'd want me to justify his appearance in this pic :)
Our next appt at 36 weeks is a big one I feel like. They are repeating my blood work to see if my levels have raised, we have the ultrasounds, and I should be checked for the first time to see if I've dilated at all yet...that along with the Group B test.
Our birthing class went well on Monday night too! I think both Hunter and I left feeling much more prepared in regards to how to know I'm in labor, when to go to the hospital and what to expect as far as labor progression and pain. We also got a tour of the maternity ward. The rooms are HUGE, at this hospital you deliver and stay in the same room the whole time your there.
As far as the nursery goes Hunter hung curtains on Monday night and I washed his crib bedding last night. Making small progress but STILL waiting on our glider that we ordered THIRTEEN weeks ago. USA baby is the devil. I haven't heard of any of our friends getting their orders in the time frame they say it will come in. If you are ordering anything from USA baby EVER give them like 17 weeks! They will lie to you though and tell you 6 to 8weeks. JERKS. GRRRR
Pictures!!