Okay so when are Target trips not successful? But this one last night was especially great. Did you join the
Missoni mayhem
yesterday? We had my mother in law staying with us last night and Hunter had a softball game. I started to tell her about the new Missoni line that hit Target today and all the success it had crashing there website and all. Her response was "Let's go!" I said "ok!" :) To Target we went!
I just had to share with you my purchases that are making me one HAP HAP HAPPY girl going into the fall season! :)
1. I joined the Missoni craze with my new headbands, mug and sweater dress :) Can't wait to be lounging around the house in this dress with leggings and a sleeping newborn on my chest :)
2. Banana Pudding Ice Cream - I love shopping with my mother in law especially grocery shopping because she always spots the new stuff on the selves and keeps her ears open for what tasty these days. This she had heard was delicious they weren't kidding. Seriously go get this, RUN!!!! Both Hunter and I agreed last night we never have to make or eat normal banana pudding again we'll just always have the icecream! In case your not convinced yet....it has real vanilla wafter cookies in it!
3. Pumpkin Pie Pop tarts - Another Mama Lunsford find. I walked right by these puppies and Hunter's mom spotted them and put them in our cart. Love Her!
4. Pumpkin fall decor - I wanna do up our fireplace mantle with a variaty fun pumpkins. Thinking something like this....


5. Yankee Candle Pumpkin Cream Pie - Now I'm normally not a fan of candles that smell like food but this one is goooooooood, and was the first step to bringing fall into our home :)

6. Timex Watch - Remember this post from Monday? I had the J.crew Timex Watch on my list of push present wants...WELL it doesn't get ANY better than this. I spotted one VERY similar in Target last night for 35 dollars and additional watch bands (like the red one I wanted) for $6.99. I'm not kidding it looks identical to the J.crew one, that's something like 150 bucks!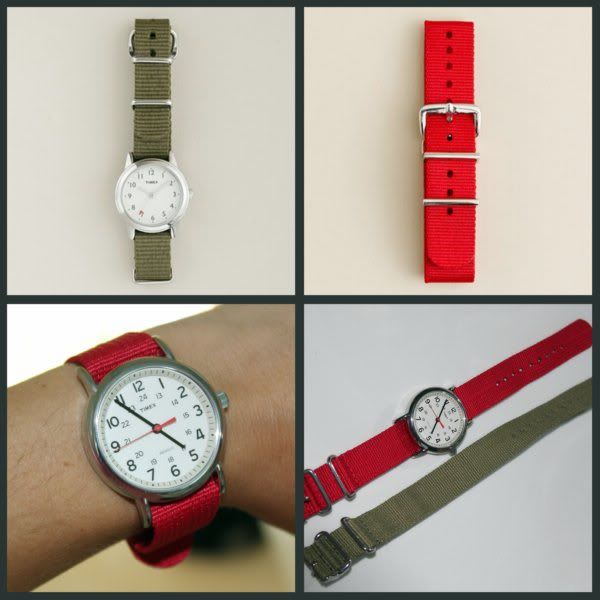 Top Row J.Crew, bottom Target!

7. And lastly this wasn't a last nights Target purchase BUT Hunter hung HL5's book rack in his room on Monday night and it's just one more thing getting me excited for fall and to meet that sweet little boy of ourse :)
What are your fall finds to get excited about?