Size of baby:
An ear of corn! About 8.5inches long and 1.5pounds in weight.
Weight Gain:
It happened. I hit the 150 mark. Actually the 151 mark :( Have gained 21 pounds so far.
Maternity clothes:
Yes most of the time. I find that I look better in shorts/skirts and tops as oppose to dresses. Dresses just make me feel and look so much bigger than I am. I do sport a few of my regular pants still to work with the belly band. They come no where close to fitting in the waist of course but the fact that they still fit in the legs and buttocks is a good thing.
Gender:
It's a boy! Hunter Lee Lunsford V
Movement:
Lots! I can def tell little Hunter its growing because his kicks are getting stronger and stronger. Instead of little pokes her and there a few of them move my whole stomach. It's a weird feeling. And I swear last night I felt his little foot. I put my hand over where he was kicking me last night and pressed down gently...i felt the hardest little knob of something and then it moved. I think it was is foot! :)
Sleep:
Pretty good, up twice a night to pee still so it's interrupted sleep but could be worse for sure.
What I miss:
Feeling normal and my old body. I'm really trying hard to enjoy these last couple months of pregnancy because I know it will go by fast but man I'll be happy to just have the little guy in my arms instead and this basketball out of my stomach!
Best Moment this week:
hmmmm, well we had a Dr's appt last Wednesday. Always great to hear the heartbeat. Everytime the nurse would put the dopler on him we'd hear his heartbeat and then he would move. She eventually asked me "He keeps moving from em, are you feeling that?" I laughed and said Yep! Little Hunter says "Get that machine away from me..."
Looking forward to:
OH soo much!! It's not all necessarily around the corner but I'm looking forward to more nursery progress, our trip to Rochester NY in August, my shower weekend with lots of family in town from far away, our birthing classes, football season starting and our baby moon! It's going to be a busy 3 months! :)
Cravings:
mmmmmmm, soft serve ice cream. Really craving that right now but what's with the new thing I'm hearing that pregnant women shouldn't eat soft serve because of the risk of Listeria in the machines from old ice cream accumulating at the bottom. UGH! can we eat ANYTHING! ????
Symptoms:
Lower back pain, upset tummy (my tummy has not felt right for weeks!) I feel like pregnancy is giving me IBS. I know TMI! Nasal congestion in the mornings, and tightness in my stomach...the mornings are better than the evenings. By nighttime I'm over being pregnant but when I wake up in the morning I'm feeling much better and ready to continue. No stretchmarks yet! (and hopefully ever!)
Some other note worthy pregnancy items going on (it's been a productive week):
1. We scheduled two more DayCare tours for next week. Need to get back on this daycare bandwagon and figure something out. As of now we are on two waiting lists but neither of which are likely to have availability by next Feb when we need them. One of the two we are meeting with next week has availability so that's good!
2. I scheduled all of our hospital classes for mid September! We are taking a birthing/labor class, taking care of baby class, hospital tour, and infant CPR. It's a total of three 2.5hr classes during the week. I'm debating on taking the breastfeeding class...experienced mom's out there do you think I should? It's free....
3. I signed back up for Yoga!! A new yoga place opened up down the street from our house and it offers prenatal yoga classes every Tuesday, Thursday and Saturdays! I've been twice so far and am loving it. Just great for the aches, pains, swelling and stretches!
4. We got some disappointing nursery news :( Wallpaper guy came to give us an estimate and told me I would need 4 more rolls of the paper I want to use. At 125 dollars a roll it would cost us 725 dollars just for the wallpaper not to mention the cost for him to hang it....not happening. Guess we will be hitting up some paint samples this weekend.
5. We booked our baby moon!
Marina Inn at Dunes Grande
in Myrtle Beach for four days three nights! There was a
groupon
out there for it this week so we got a great deal. Will be mooning September 23rd to the 26th!
6. Our Dr's appt last week went well. I measured right on target and baby's heartbeat was 152. My next appt is August 9th where they will do the glugose test. After that appt I start going to the Dr. every 2 weeks instead of four. Exciting!
7. Annnnnd left of the baby to-do list is to pick out a pediatrician.
Pictures:
I think I grew....what do you think? GAH and I have such a pea head!! I swear the bigger my body gets the smaller it's making my head look :( ha!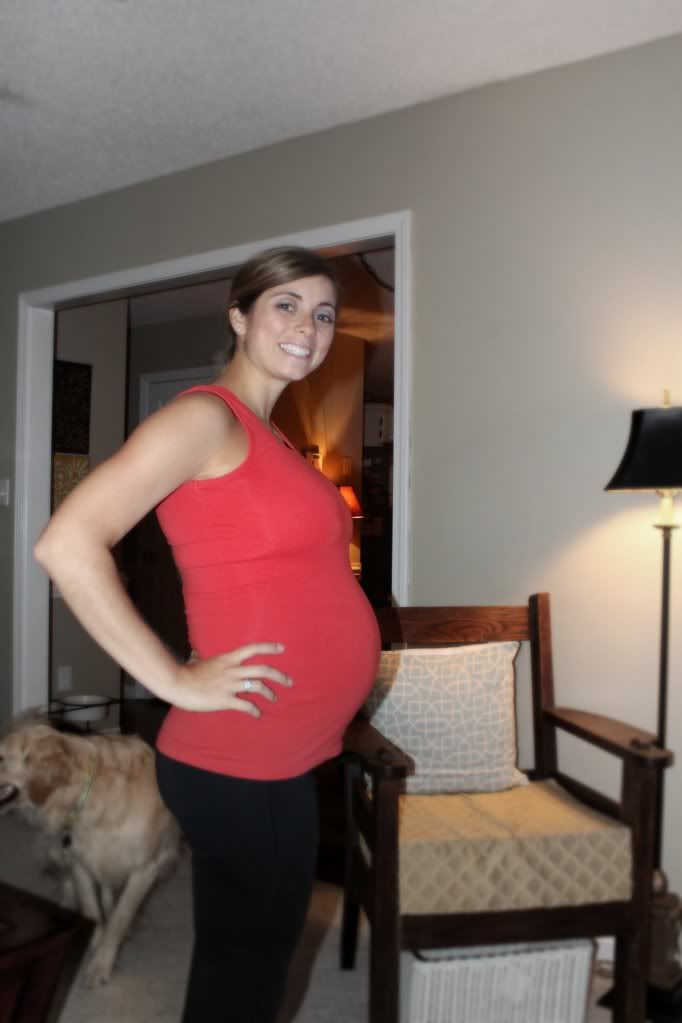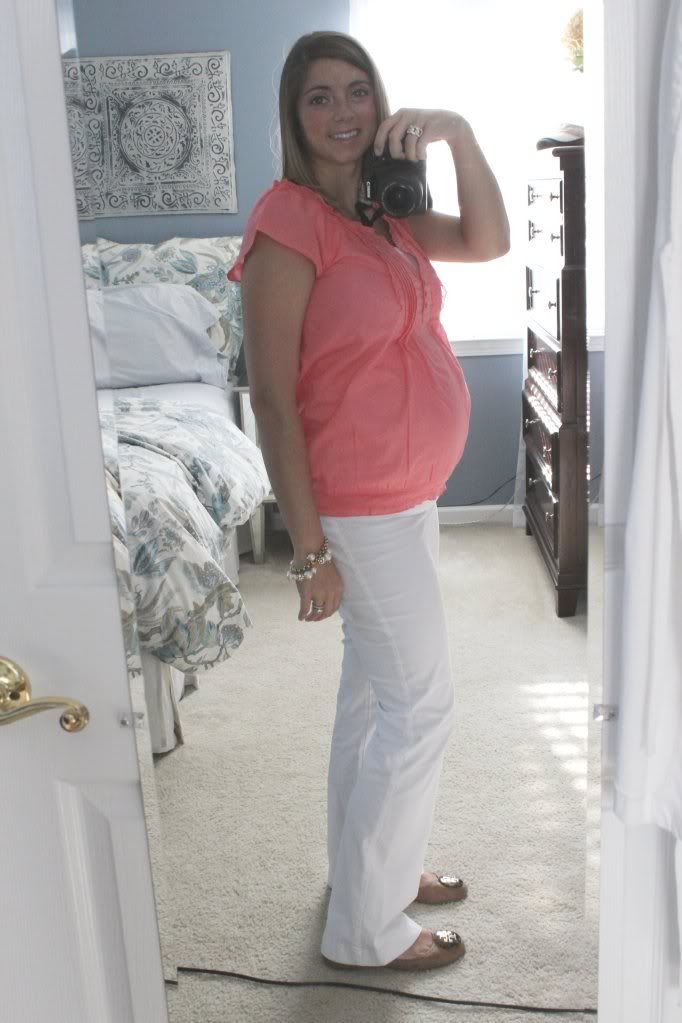 I'll try to post some nursery progress pictures next week...what little progress there has been :)