I haven't let it go yet. I'm still on a mission to change our home. Maybe it's the mid-feb blues and since we aren't getting cheeriness outside of the house I'm compensating by bringing it inside. Either way I'm pretty happy with my Friday finds and think they will definitely do the trick!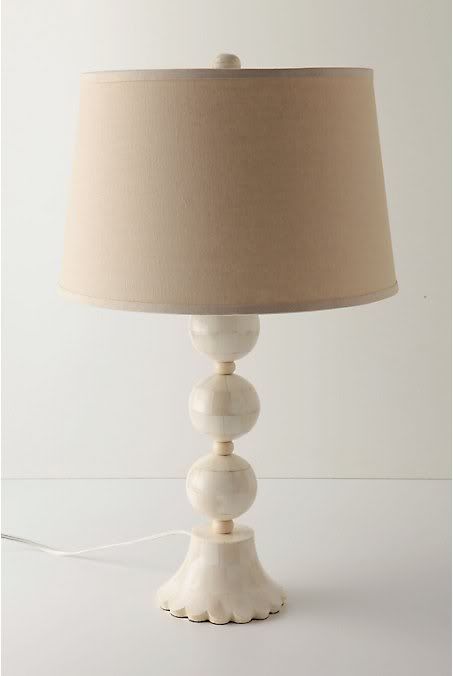 New kitchen lamp - I mean the one we have now is a pineapple. A pineapple, really? Time to replace.
Anthropologie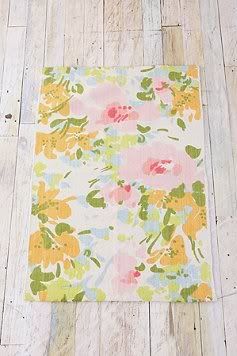 New kitchen rug in front of the sink - I'll probably wait til mid-march to put it out but gah the springiness of this just makes me smile - so ready!
Urban Outfitters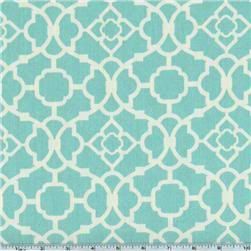 New roman shade for the kitchen sink window, made out of this fabric. I feel like our whole kitchen, to kitchen table, to living room area is all green and yellow. So I'm changing that. This blue is so refreshing and I think transitions well with the yellow roman shades we already have in the kitchenette area. I bought the fabric from
fabric.com
. And
Melissa
on Etsy is making it for me!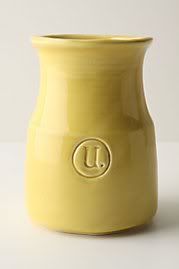 And a few new little accessories to top off the kitchen refresh. Anthropologie
here
and
here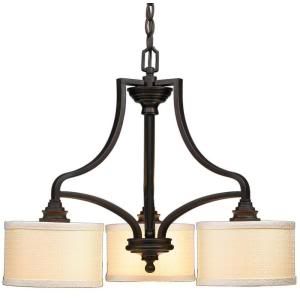 A new chandelier for above our kitchen table. I actually saw this in person when Hunter and I were looking at hardwood flooring last weekend. It caught my eye immediately. The one up now isn't terribly unfortunate so we've lived with it but with the price tag on this guy, no longer!
Home Depot
And in the midst of my hunt for new kitchen items I stumbled on these items that I'll sure be keeping in mind for future events :)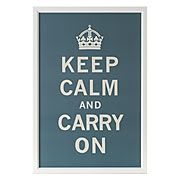 How cute would this be hanging in a little boys nursery. A reminder to Mom during those 2am feedings.
ZGallerie
And these curtains for a nursery - I ADORE those little pom poms!!! :)
Anthro
And for your hubby on V-day. I know my hubby would like this guy for those VT football games and Hunting trips.
Urban Outfitters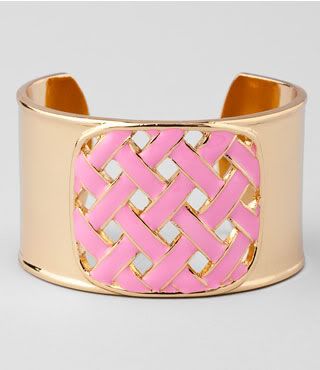 Lilly
And for me because well...I deserve it!
Happy Friday! Nothing too big going on with us this weekend. Hopefully getting some homeowner type things done like ...fixing the under cabinet lights in the kitchen, buying the hardwood flooring for the living room, and getting a mouse trap for the garage. YES, we have a little mickey living in our garage!!! EEEK!
Here's a comical convo between Hunter and I on the subject. AND a little background to how it starts... I didn't try to kill our dog I just fed him a little to much popcorn the night before and his tummy was a tiny bit upset the next morning :)
15:02:20 KRISTEN LUNSFORD:
did u get the picture i sent
15:30:29 HUNTER LUNSFORD:
yeah. we get mouse traps
16:48:51 HUNTER LUNSFORD:
can't beleive you tried to kill our dog with popcorn last night.
16:49:15 HUNTER LUNSFORD:
bad mommy.
16:49:30 KRISTEN LUNSFORD:
hahahahaha oopsie
16:49:50 KRISTEN LUNSFORD:
the old bay was probably a bit much
16:50:01 KRISTEN LUNSFORD:
although it could be the mice droppings he's eating too
16:50:07 KRISTEN LUNSFORD:
your trying to kill him just as much
16:50:25 HUNTER LUNSFORD:
I've done nothing. You and mickey.
16:50:48 KRISTEN LUNSFORD:
we really need to get ride of those mice this weekend...they are drinking jakey's water in the garage too
16:50:56 KRISTEN LUNSFORD:
he's drinking after mickey. gross
16:51:02 HUNTER LUNSFORD:
i think it's one mouse babe.
16:51:10 HUNTER LUNSFORD:
and he's cute.
16:51:16 KRISTEN LUNSFORD:
wow, well that mouse sh*ts AlOT then
16:51:22 HUNTER LUNSFORD:
maybe we can domesticate him.
16:51:29 KRISTEN LUNSFORD:
cause there was like 10 droppings in his bowl
16:51:37 KRISTEN LUNSFORD:
no mice
16:51:41 KRISTEN LUNSFORD:
no mickey
16:51:53 HUNTER LUNSFORD:
I could name him Jerry, instead?
16:52:07 KRISTEN LUNSFORD:
im gettin a cat
16:54:52 HUNTER LUNSFORD:
Tom?
16:55:00 KRISTEN LUNSFORD:
yep tommy
16:58:44 HUNTER LUNSFORD:
how bout no.
16:59:11 HUNTER LUNSFORD:
you can get a cat....but I will torture it. And take great pleasure doing it.
Yeah, Hunter doesn't like cats. Sorry Mom :)