Don't you just love it when a dinner turns out EXACTLY the way you expected it to taste. That was us last night. Hunter had the idea of BBQ chicken pizza and it turned out DELISH! Here's what we used...but of course I encourage you to make it your own and use whatever toppings you would like
1 Pillsbury pizza dough (the kinda in the same roll container as crescent rolls)
1 can/jar of pizza sauce
1 green pepper
1 red onion
1 can of sliced mushrooms
1 can of sliced black olives
Mozzarella cheese
Smoked Gouda cheese
Steps:
1. Cook your chicken breasts - we sauteed them in a pan with a little oil.
2. Roll the pizza dough out onto a cookie sheet, baste with olive oil and seasoning (we use garlic salt) and bake according to package)
3. While your chicken and dough is cooking slice your green pepper, and red onion, shred your cheese and open all the jars to the other toppings so they're ready to go! Also, mix your pizza sauce in a bowl with a little bit of BBQ sauce to taste however bbquey you want your sauce. YES bbquey is word :)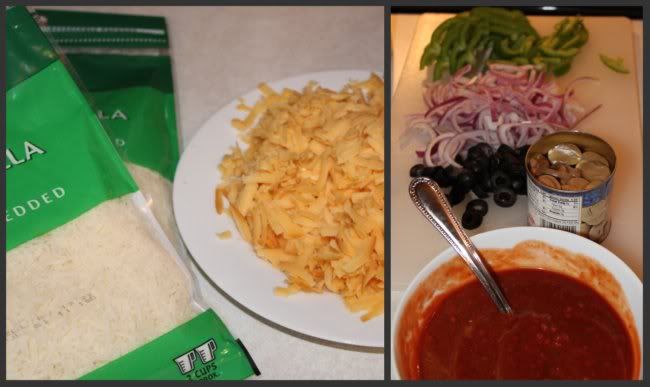 5. When you chicken is done, slice into pieces and cover with BBQ sauce in a bowl.
6. Pull pizza dough out of oven, cover with sauce/BBQ mixture and then layer on toppings starting and ending with cheese if you please! :)
7. Bake for another 15 mins or so, let cool, top with cilantro and...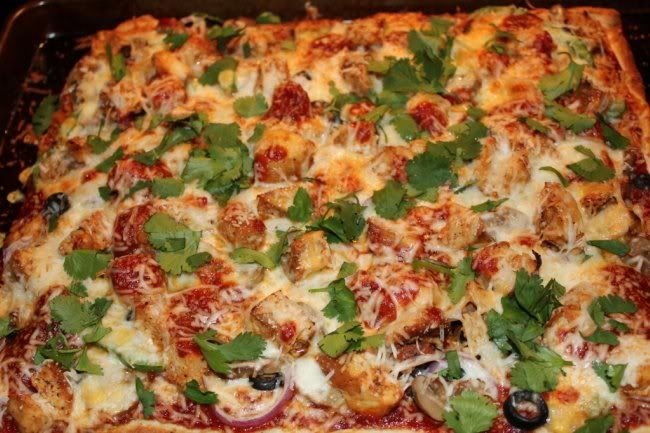 YUM!!!!
The crust is thin, its chicken, veggies, sauce and a little cheese...it can't be THAT bad for us! Enjoy :)